NEWS
Madonna: "I Think I'm a Pimp!"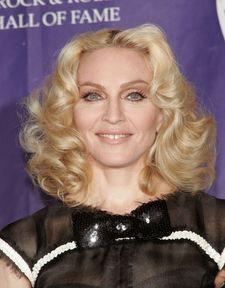 Madonna isn't afraid to turn 50 this August. "I think people are surprised I'm still around!" the pop star tells Entertainment Tonight. "When I started out, people said I would last a week."
The always-evolving singer admits that even today she has a hard time figuring out how to describe herself. "I think I'm many things."
And what sort of things does the Material Girl liken herself to? "I think I'm a lady, I think I'm a brat, I think I'm a nerd, I think I'm a pimp, I think I'm a mother, I think I'm a kid."
Article continues below advertisement
She adds, "I can't be a brat forever! But that was fun, it was fun being a brat. I've got my cheeky side."
The married mother of three also talks openly about raising her children: Lourdes, 11, Rocco, 7 and two-year-old David Banda. "I'm very keen on manners, like 'Please' and 'Thank you.' I like the children to pick up their bedrooms, get clothes off the floor, excuse themselves from the dinner table, they even wash dishes. They do have chores around the house!"
But, that doesn't always mean they act like perfect angels. "I sometimes do a double-take when I look at Lourdes. She is just like me at that age; however, I never talked back to my father. My daughter has overlooked that!"
For the complete interview with Madonna, check out tonight's ET.