NEWS
Madonna: I Would Get Cut on American Idol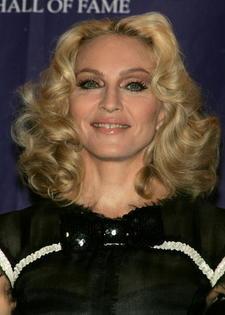 These days, struggling and aspiring artists can take the fast track to fame thanks to American Idol, but back in the day, you had to work your way up and no one knows that better than Madonna.
"I did it the hard way," she tells New York radio station Z100 in an interview to air tomorrow. "I had to teach myself how to play the drums, I had to get into a band. I played in crappy little clubs for years before anybody would even pay any attention to me. I had to take my tape around to record companies and have them shut the door in my face. It took a long time. I came up the hard way."
Article continues below advertisement
It's all worth it, though, for the 49-year-old, who was inducted into the Rock 'n' Roll Hall of Fame this month, because "doing all of that is what's given me staying power."
If an Idol-esque show had existed back in the '80s, the Grammy-winning superstar doesn't think she would've fared well on it.
"I went to a lot of auditions for musical theater and conventional mainstream things and I always got cut immediately, so I'm pretty sure the same thing would happen to me."
She continues, "Now the music business, the entertainment business is a different game. Different things happen for people and I think playing live is not something people focus on very much."
She certainly is though. Following promo tours in April and May for her upcoming album, Hard Candy, Madonna is plotting a larger summer tour in full support of the disc.
Hard Candy is her 11th studio album and features a tune, "4 Minutes," with Justin Timberlake, who famously recounted a bootylicious incident in the studio with Madge at her Hall of Fame induction ceremony. The 27-year-old shared that Madonna ordered him to drop trou to give him a B12 shot when he complained of a cold. For her part, Her Madgesty insists there was no ulterior motive in her offer.
"The reason I gave him a B12 shot is because we only had a certain amount of days in the studio and I didn't want him using that as a lame-ass excuse to not to come to work," she says. "It's got nothing to do with butt, I promise you. I don't need to give him a shot to see his butt!"