NEWS
Madonna, Justin Roll Backstage at Rock Hall Induction Ceremony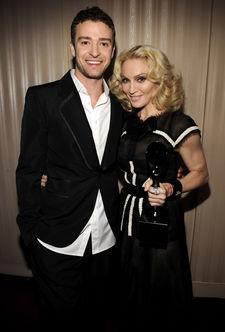 At 10:39 p.m., Madonna graces us with her presence backstage at the Rock and Roll Hall of Fame Induction Ceremony held at NYC's Waldorf-Astoria. She adoringly glances at Justin Timberlake as she poses for photos while her uber-publicist Liz Rosenberg races around wearing a silver '80s-style headband complete with a googly antenna. Afterwards, a fellow red carpet reporter happens upon the same elevator as Madge but gets rebuffed. So close!
Article continues below advertisement
During her induction speech, Madonna reveals her life was either a series of suddenlys or else it happened just as it should have been.
"Everything happens exactly as it was supposed to happen," she says of her stellar career. "That I worked with the amazing people I was supposed to work with, that I traveled to the amazing places I was supposed to travel to, that I made the mistakes that I was supposed to make. That the universe would conspire to help me and guide me only up to this moment where I am standing in front of you."
Justin, who inducted her, reminded the pop icon of the scathing reviews she's received over the years. "Madonna will be out of the music industry in six months. Her voice is like Minnie Mouse on helium. Comparing Marilyn Monroe to Madonna is like comparing Raquel Welch to the back of the bus. That's what they were saying about Madonna 25 years ago. I don't think any of them are around to say it tonight."
Article continues below advertisement
Back in the press room, Ben Harper gives props to rock music. "There's no rules," Laura Dern's hubby says. "That's what I love about rock and roll."
Patti LaBelle confesses she canceled another event because she wanted to be here tonight. "One year I'm going to be inducted. Uh-huh."
Inductees Gamble and Huff say they're going to "party, party, party" to celebrate their induction.
Dave Clark, of inductee The Dave Clark Five, says American music in the '60s was responsible for the British invasion. "I'm absolutely delighted. It's a very, very proud moment for us. It doesn't matter how long it takes." (Tom Hanks mugs with the group!)
Saturday Night Live star reveals he's scouting the ceremony for material. "I guarantee you will find out on Saturday. If anyone has ever done anything to get on Saturday Night Live, it was today."
Ed Burns and Christy Turlington roll through. He yuks that his favorite movie is Man for the City, which is "about a corrupt mayor of New York who gets caught in a sexual scandal." (Ahem, Eliot Spitzer.) Michael J. Fox and wife Tracy Pollen pose for photos ... and Chevy Chase announces he's running for president.
Meanwhile, inductee John Mellencamp, Billy Joel and more stop by the On 3 Productions gift lounge, where they pick up D'Annunzio Group International jewelry, a Starlight Tattoo gift card, a New York Health and Racquet Club membership and SONU beverages.
Next year, the ceremony will take place in Cleveland at the actual Rock and Roll Hall of Fame. I'm going home! So fun.