NEWS
Madonna & Lourdes Bond Over Lady Gaga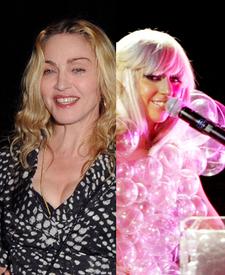 It's always good to find something you can enjoy with your adolescent daughter: the Harry Potter books, maybe, or the occasional trip to the mall.
Or, if you're Madonna and and daughter Lourdes, dancing at electro-pop shows in Manhattan night clubs.
Madge and her 12-year-old made the scene at the Lady Gaga show at NYC's Terminal Five on May 2. And it sounds like they got down to some good old mother-daughter bonding during the hip singer's spectacular show.
Article continues below advertisement
"Madonna loved the show, laughing at all of Gaga's genius commentary," said Justin Tranter, whose band Semi Precious Weapons opened for Gaga, told OK!.
"And Lourdes knew all the words to Gaga's hit "Poker Face"."
As well as Lourdes, Madonna and her date, Jesus Luz, Cyndi Lauper, designer Zac Posen, and top photog David Lachapelle were all in the crowd.
By Oliver Coleman