NEWS
Madonna Moving To Malawi?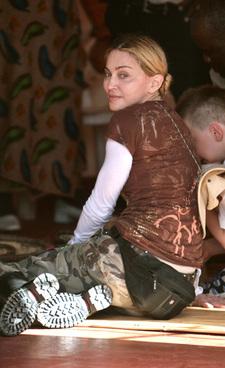 Apparently Madonna is buying a new home. No, it's not another New York penthouse, London townhouse or a villa on Lake Como.
This time Madge is moving to the Third World.
Reports from Britain are claiming that Her Madgesty is building a "family home" in Malawi -- the country that has just refused to allow her to adopt three-year-old Mercy James.
It's said that Madonna thinks that it would be good for her youngest son David -- who is also from Malawi -- to have that "connection to his birthplace."
Article continues below advertisement
"Madonna has a big, beautiful plot of land over there already," a source has said. "She's planning to build a girl's school in the Chinkhota village and those designs are well under way.
"But she's gone back to the designers and asked if they could accommodate a family home on the plot or on adjacent land."
Earlier this month, a Malawian court told Madonna that she wouldn't be allowed to take a second child from the country because she had not been a resident there for 18 months.
She has already launched an appeal against the decision.
Have a news tip or great photo you want to tell us about? Shoot us an e-mail: tips@okmagazine.com
PHOTOS OF MADONNA & FAMILY IN MALAWI: