NEWS
Madonna Returns to the Movies!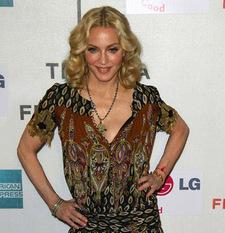 Amid the hype and hoopla of the Tribeca Film Festival, Madonna struck a serious tone in debuting her latest foray into film, I Am Because We Are, a documentary about the heartbreaking conditions facing orphans in Malawi. The pop star wrote and produced the film, but instead of going with a big-name director she tapped her nanny's husband, Nathan Rissman.
Of course, she has her reasons for thinking the first-time director was the perfect candidate for the job. "He basically re-routed the electricity in my house," Madonna told reporters. "He's looked after my children. He did everything, and started making home movies of my children. He's very creative.
Article continues below advertisement
"And he has a lot of humility," she added, "which I thought was a good quality to have."
Madonna has a very personal connection with Malawi, having adopted son David Banda from the country in 2006—an event that was not without its share of controvery. Yet she hopes that her film will help the less-invested masses see that there's something everyone can do to help the impoverished African nation.
"Even if it's writing letters to kids that live in clinics, and sharing your experience with the documentary, it's an amazing thing to connect to them and find out what's going on," she says. "Just educating yourself about what's going on in Africa would be great."