NEWS
Madonna Says She's A "Huge Fan" Of Justin Bieber: "I Love It When He Raps"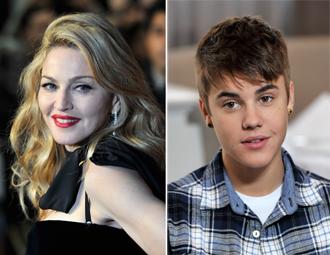 Do you have any idea who has joined the elite ranks of celebrity Beliebers? One hint, she's a Material Girl!
That's right. The legendary Madonna announced herself a Justin Bieber fan Monday night on her Twitter account.
When a fan asked her during a Twitter question-and-answer session "What do you think about Justin Bieber?" The singer (whose new album MDNA dropped yesterday) answered, "he's awesome. I'm a huge fan. I love it when he raps."
Article continues below advertisement
Justin had a big day Monday with his new single "Boyfriend" going to straight to number one on the iTunes charts.
It must have gotten even more exciting when Madonna then answered JB, tweeting, "@justinbieber Come and join me on stage when I'm on tour when we are in the same city and congrats on your new single."
Wow! Congrats to both Justin and Madonna on their big days!