NEWS
Madonna Speaking Out Against Jailing of Gay Couple in Malawi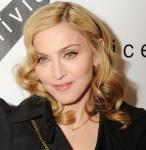 Madonna has two children from the African nation of Malawi — David and Mercy — and now she's showing just how much she supports their home country: The Material Girl is speaking out on behalf of a gay couple who have been sentenced by a Malawian court to 14 years of hard labor after they were given a conviction on charges of gross indecency and unnatural acts.
"I am shocked and saddened by the decision made today by the Malawian court, which sentenced two innocent men to prison," Madonna said in a statement to Access Hollywood.
Article continues below advertisement
OK! GALLERY: GWYNETH & MADONNA BRING THE GLAM TO BENT ON LEARNING
Malawian outlets report that Tiwonge Chimbalanga, 20, and Steven Monjeza, 26, were convicted of gross indecency and unnatural acts, after their engagement ceremony last year and subsequent arrest in December. Yesterday they received the maximum penalty of 14 years hard labor, as homosexuality in Malawi is illegal.
"I sentence these two... to a maximum sentence because I want us to stop Malawian sons and daughters from copying the same-sex marriages which are un-Malawian and not in our culture and religious beliefs," Chief Resident Magistrate Nyakwawa Uisiwausiwa said, according to Reuters.
OK! NEWS: MADONNA LAYS FIRST BRICK FOR MALAWI GIRLS ACADEMY
Also yesterday, Robert Gibbs, press secretary for President Barack Obama, released a statement saying the U.S. "strongly condemns the conviction and harsh sentencing."
"As a matter of principle, I believe in equal rights for all people, no matter what their gender, race, color, religion or sexual orientation," Madonna added in her statement. "Today, Malawi took a giant step backward. The world is filled with pain and suffering; therefore, we must support our basic human right to love and be loved."
OK! VIDEO: GLEE SINGS THEIR PRAISES TO MADONNA
Madonna entreated others to voice their disapproval of the sentencing, pleading, "I call upon the progressive men and women of Malawi — and around the world — to challenge this decision in the name of human dignity and equal rights for all."