NEWS
Madonna vs. Lady Gaga: Madge Covers 'Born This Way'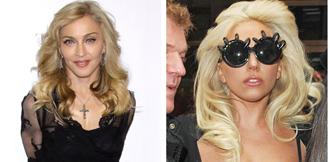 So much for being a gentle mentor....
OK! NEWS: LADY GAGA OPENS UP "GAGA WORKSHOP" AT BARNEY'S NEW YORK
Madonna sharpened her claws this weekend during a rehearsal in Israel when the pop star sang a few verses of her 1989 hit Express Yourself, seamlessly transitioned into Lady Gaga's Born This Way and chanted "she's not me! she's not me!".
Subtle? Not particularly. But when has Madonna been known for her subtlety?
Article continues below advertisement
When Gaga's Born This Way was released last year, listeners quickly picked up on the how the singer lifted a few power chords from Madge's Express Yourself and tweaked them only slightly for the chart-topping gay anthem. While fans were less than polite to Gaga, Madge herself took the high road only saying the song sounded "reductive."
OK! NEWS: MADONNA'S BOYFRIEND, BRAHIM ZAIBAT, TELLS ALL TO OK!
"I thought, 'What a wonderful way to redo my song,'" Madonna told The Daily Beast. "I mean, I recognized the chord changes. I thought it was… interesting."
Interesting, eh?
Check out the video below of the pointed mash-up. We, for one, hope Madonna keeps this bit in her show. How deliciously bitchy.