NEWS
Madonna Will "Never Forget" Meeting Son David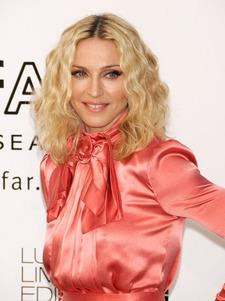 Her adoption of son David Banda took two years to complete, but if Madonna had had her way, he wouldn't have been the only child she took in from Malawi.
"I'll never forget meeting my son, David. If I could, I would have adopted 10 more children," she tells Parade.com. "There's just so many that need parents and one's more beautiful and lovely than the next."
The superstar exposes the plight of Malawians in her new documentary, I Am Because We Are, which she made at the behest of a resident who wanted Madonna to share her people's story with the world.
Article continues below advertisement
"I was approached by a woman who lived there who said, 'Look, you have children; you're a mother; you write children's books; you donate money to children's charities, so we know that you care. There's a state of emergency going on here, over a million children orphaned by AIDS. People pay attention to what you do and what you say, so could you please help?'" Madonna recalls. "I just thought, 'How can I say no?'"
The film premiered at the Cannes Film Festivals in May, one of the singer's many spring releases. Her eleventh studio album, Hard Candy, hit stores and featured collaborations with Justin Timberlake and Kanye West.
"I like to work with people who have strong opinions," the 49-year-old says. "Justin, Timbaland and Kanye — they are all pretty much superstars in their own right and have a very strong sense of what they like and what they want — but so do I. So it was like many forces meeting all together in a room and it was good give and take. There was a lot of chemistry."