NEWS
Madonna's Golden Globes Speech Slammed by David Furnish: "Embarrassing in Its Narcissism"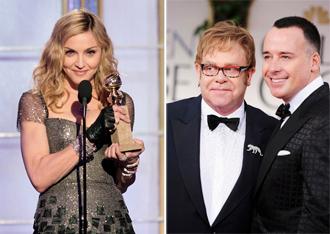 Article continues below advertisement
"Madonna. Best song???? F**k off!!!" David wrote on his Facebook (via E! News).
And he didn't like what she had to say when she got on stage, writing, "her acceptance speech was embarrassing in its narcissism."
But that's not all!
David is team Lady Gaga in the music debate surrounding the similaries of their songs.
He added, "And her criticism of Gaga shows how desperate she really is."
Ouch!
OK! GALLERY: GOLDEN GLOBES 2012 RED CARPET TREND — POPS OF COLOR, JEWEL TONES & BLACK!
Do you think Madonna's speech as "embarrassing in its narcissism?"
Read it, below.
"Hi. This is a surprise. Um, um, um. I'm not French. I have no excuse. So thank you so much to the Hollywood Foreign Press for this acknowledgment. I need to thank my co‑writers, Jimmy Harry and Julie Frost, my co‑producer William Orbit, who is not here, who I bore — whom I adore. I would also like to thank my manager, Guy Oseary, who I spend most of my time beating up on. But, seriously, he harangued me for the entire time I was filming and editing my movie to write a song for the film. Then I said, 'Please, Guy, I'm trying to focus on being a director, and I want people to pay attention to the film, and I don't have time.' So then I finished the film, and I started making my record, and somehow, magically and miraculously, the song emerged, "Masterpiece." So thank you, Guy Oseary, for being so irritating. Of course, I must thank my beautiful leading lady Andrea Riseborough, who is sitting right in front of me because, truly, her performance in my film is a masterpiece, and thank you so much. Finally, I'd like to thank Harvey Weinstein, the punisher — that's his nickname, 'the punisher,' yes — for believing in my film. Thank you, Harvey."