NEWS
Madonna's Got Nothing on Marie Osmond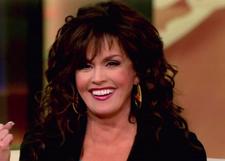 For most people, turning 50 is a moment for reflection — and a massive party. But not
Marie Osmond — she's too busy. The iconic entertainer and Dancing With the Stars
alum stars in a sellout Las Vegas show with her brother Donny, has an upcoming TV talk show and has written a new book called Might as Well Laugh About It Now. Marie, a NutriSystem spokeswoman, tells OK! about being a mom to eight kids, her inspiring weight loss and why Madonna ain't got nothing on her.
Article continues below advertisement
OK!: How will you mark your 50th birthday in October?
I have no clue! I don't care. Fifty is the female F-word to a lot of people. I have eight beautiful children; I have a book, a TV show, a show with my brother in Vegas. I'm grateful and incredibly happy.
OK!: What's your new book about?
It's a collection of poignant moments in my life. I want my kids to be able to read about me when I'm gone.
OK!: What can we expect from your talk show?
It'll be chick chat. I've had divorces, I have a big family with kids who have struggled. Hopefully, I can pass on things that I've learned.
OK!: Are you dating?
No, I can't get anybody to sign a prenup on the first date! Laughs. It's not a priority for me. I'm so busy. If you can take me out from 1 a.m. till 3 a.m., we can give it a shot!
OK!: Would you consider adopting again?
Absolutely not. I'm done — eight is enough. I'm the original Octomom!
Article continues below advertisement
OK!: What do you think of Octomom?
I don't care... I think there's been enough about her.
OK!: Are you a strict mom?
I think my children love me, and I think children need boundaries. I haven't always been a perfect mom, and I don't know anyone who is.
OK!: How did you lose weight during DWTS?
It's all about attitude. Don't think, "I must be skinny." Think, "I want to be healthy."
OK!: Did your kids inspire you to slim down?
My oldest son came to me and said, "Mom, you're going to die, because heart disease runs in our family." I wanted to punch him in the face when he told me I needed to lose weight laughs. I thought, "My goodness. I need to live to be with my kids and grandkids."
OK!: What's your workout?
My exercise routine is my very energetic show at the Flamingo in Vegas. I like to lift weights to stay toned. And I listen to audiobooks on my iPhone while I walk for 30 minutes to an hour every day.
OK!: What size are you now?
I don't know. My bones are tiny, so don't compare yourself to me, that's ridiculous.
Go for a size that feels healthy.
OK!: Do you have any tips or secrets for looking young?
Love yourself. Common sense says you should drink a lot of water and eat vegetables and fruits.
OK!: How do you keep going?
I'm a woman who's been working consistently in this business for 45 years. I don't know of a woman in this business who's had a career that long. Madonna is a couple years older than me, but I've been working longer than her. I think you have to keep reinventing yourself. And never give up!