NEWS
Madonna's Marriage "Well and Wonderful"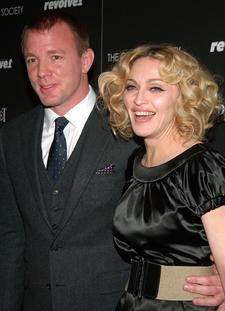 Despite rumors that Madonna and hubby Guy Ritchie are calling it quits, Madonna's publicist says that all's well between the couple.
Tongues began wagging after Ritchie was a no-show at Madonna's Malawi fundraiser at the United Nations in early February. Then Ritchie also failed to show at the Material Girl's induction into the Rock and Roll Hall of Fame last week.
Yesterday British tabloids reported that "Madge's marriage 'hangs by a thread,' but today Madonna's publicist Liz Rosenberg denied the rumors, saying that, "I am delighted to confirm that Mr. and Mrs. Guy Ritchie remain happily married."
Article continues below advertisement
Rosenberg explained Ritchie's no-show and the couple's bi-coastal lifestyle on professional obligations: Madonna's been promoting her new album Hard Candy while Richie's been working on his newest film project, RocknRolla.
Now, assures Rosenberg the couple is "joyfully back together at home in London," with their children Rocco, 7, Lourdes, 11, and the young Malawian boy they are in the process of adopting. "All is well and wonderful," said Rosenberg.