NEWS
Madonna's Pals Keeping A-Rod In Line!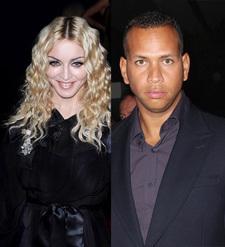 Even though both of their marriages are over, it looks like Madonna doesn't exactly trust baseball-playing boy-toy Alex Rodriguez to avoid his flirtatious ways — or at least her best pals don't!
Partygoers at last Friday's opening for the chic new Fontainebleu Hotel in Miami tell OK! that A-Rod appeared to be up to no good until a pair of Madge's pals, Gwyneth Paltrow and Madonna's BFF Ingrid Casares, played a bit of babysitter.
Article continues below advertisement
The night began innocently enough, as A-Rod — along with his always-present posse of pals and bodyguards — tried to sneak past photographers on the red carpet, but to no avail. Once inside the Fontainebleu's main marble-floored room, the all-star shortstop was all smiles, posing for photographs with fans and talking about everything from baseball to holiday plans to other partiers, especially one dark-haired beauty in a short black dress who approached him.
"They looked like they were flirting," one eyewitness tells OK! about Alex and his chatting partner. "A-Rod's body language was open and casual, and he had a big smile."
Meanwhile, Madonna's good buddy Gwyneth, who had arrived a few minutes before A-Rod was only about five feet away from this intriguing scene, talking to friends but glancing over and keep tabs on Alex's conversation.
About 15 minutes lapsed before Madonna's best friend Ingrid swooped in to inject herself into the conversation with Alex.
Article continues below advertisement
"She wedged herself in between A-Rod and the brunette and didn't even acknowledge that the other woman was there," recalls the partygoer to OK!. "Ingrid diverted Alex's attention and made sure to keep him deep in conversation."
The tenacious mystery brunette remained by the pair's side, despite appearing completely forgotten by A-Rod. "She just stood there, off to the side, waiting for someone to talk to her," says the eyewitness. "At one point she pulled out her phone and started to text people, but she was still being ignored."
Then Gwnyeth sidled over to join Ingrid and Alex, completely blocking out the woman who had held his attention so closely only minutes earlier.
"Finally, the brunette girl got the hint after about 20 minutes of being ignored and just rejoined the crowd while Alex continued to catch up with Gwyneth and Ingrid," the insider tells OK!.
And according to others in Miami this weekend, this wasn't the first time Alex had enjoyed Gwyneth's company — They were spotted earlier in the day, engrossed in conversation while enjoying Scott Conant's restaurant Scarpetta inside the hotel.
As for the missing Material Girl, who is still in the midst of her Sticky & Sweet tour, Gwyneth told reporters at the opening, "She's doing well, doing great actually."
Probably because she knows you're keeping an eye on her man!