NEWS
Madonna's Reading List Speaks Volumes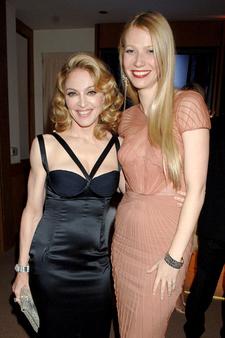 In an effort to take her lifestyle website, Goop.com, in a literary direction last week, Gwyneth Paltrow asked her friends to share their top titles.
Pals like Christy Turlington, 40, wrote short essays on their choices. But perhaps Madonna, 50, was too busy to bang out a book report?
The word "blurb" was posted under each title in lieu of a note in her section.
Article continues below advertisement
"I like knowing the literary preferences of people," Gwyneth, 36, explains. "It gives a better understanding of their inner life." Or their lack of, in Madge's case, apparently.
So what do Madonna's picks mean? We asked a specialist to tell us...
Shantaram
"It's interesting that Madonna connects with a main character who has multiple identities," clinical psychologist Dr. Jenn Berman says of Australian novelist Gregory David Roberts' tome, "because she has made a career out of changing her identity."
MORE ON:
Christy Turlington
The Bad Girl
"This is a relationship-oriented book in which a man is fixated on another woman to his own demise, paralleling Madonna's situation with A-Rod and Guy Ritchie,"
Dr. Berman speculates about Peruvian author Mario Vargas Llosa's novel.
The Time Traveler's Wife
"Madonna can relate because she's had to leave her relationship for periods of time due to her career," Dr. Berman says. What's the twist in Audrey Niffenegger's tear-jerker? "The relationship is more traditional than any she has had."