NEWS
Maggie Gyllenhaal: "Mary Poppins Was a Narcissist"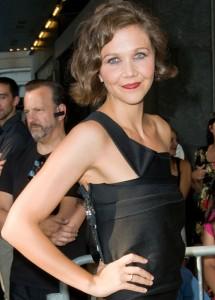 Maggie Gyllenhaal has grown wiser from her experience with nannies, thanks to her three-year-old daughter Ramona.
"One thing I learned as a mother was I started out having babysitters that were young and lovely, bright, great girls, but they left," the married mom, 32, says during the Nanny McPhee Returns special screening to benefit the Lollipop Theater Network held this week in NYC. "When you think about it, when I was 23, there was nothing that was particularly going to keep me other than what was pulling my heart. I have a grown-up nanny now. There's a different level of responsibility when you get to be a grown-up."
Article continues below advertisement
When it comes to nannies, Maggie sees the dark side of Mary Poppins.
"Mary Poppins was a complicated lady," she says. "Yeah, she's hanging out with her boyfriend basically – Dick Van Dyke played her boyfriend – and she's with the kids. She was a narcissist, but she's also pretty great. That's one thing I've realized watching Mary Poppins a lot with my daughter. Julie Andrews is pretty amazing. She's pretty incredible."
MORE ON:
Red Carpet Confidential
What movies does Maggie enjoy with her daughter?
"Right now, we've been watching – what she's been liking and I've been liking too – are Ginger Rogers and Fred Astaire movies. They're really cool. There's dancing, beautiful dresses, simple plot."
Emma Thompson, who plays the iconic caretaker in Nanny McPhee, admits she was turned off by nannies when her au pair ate her "sweeties" at age 7.
She compares the chemistry between fictional nannies Mary Poppins and Nanny McPhee.
Article continues below advertisement
"I love Mary Poppins, but how would they respond to each other? I think Mary Poppins would say to Nanny McPhee 'you really need to get in touch' and Nanny McPhee would say that Mary Poppins was a bit of a showoff."
Director Susanna White sings Maggie's praises in the motherhood department. Her twin daughters got to know Maggie's Ramona during their time on the set.
"Maggie's absolutely wonderful as a mom. Very loving and sweet, but also, like any good parent, there are boundaries for her daughter. Her daughter knows what she can and can't do, which is a way to feel secure. I think she's a wonderful mother."