NEWS
Maggie Gyllenhaal Talks Oscars With OK!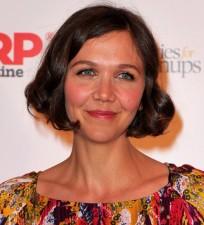 Maggie Gyllenhaal has just nabbed one of the greatest honors an actor can have — an Academy Award nomination, for her supporting role in Crazy Heart. But instead of being a nervous first-time nominee, Maggie says she's excited to enjoy the ride! "That's my goal; I would like to have fun," Maggie told OK! and other reporters at AARP The Magazine's ninth annual Movies for Grownups Awards, honoring Robert De Niro in Beverly Hills.
Article continues below advertisement
Maggie adds that part of her relaxed attitude is due to the fact that the Oscar is her only chance to win an award for the role.
"I wasn't nominated for anything else for this movie, so on some level, I let go of the award stuff," she admits. "I did sort of go through the thing, 'Oh, awards aren't everything,' and then to be nominated was kind of a little mind trip."
But what about that all-important aspect of every awards ceremony — the dress?
"I am going to have a fitting when I go back home to New York," Maggie revealed to OK!. "I saw some pictures of some beautiful dresses, and I'm going to try them on."
And although her husband, Peter Sarsgaard, wasn't nominated for his great work in An Education this year, Maggie says he's still her biggest fan and supporter.
Article continues below advertisement
"He said he felt like he was nominated because I was. I really do understand what he means," dishes Maggie. "I think it could have so easily been the other way around, and I think it would have been great that way, too."
OK! GALLERY: PETER SARSGAARD STEERS MAGGIE GYLLENHAAL TO SAFETY
The couple's 3-year-old daughter, Ramona, doesn't quite understand how famous her parents really are, however.
"I have explained some of it because she asked me the other day, 'What's Crazy Heart?' Because people come up and say that they have seen it and that they like it," Maggie explains.
She'll understand when she grows up, we're sure of it — especially if her mom wins on March 7!
Reporting by Elizabeth Rosselle