NEWS
'Magic Mike' Star Alex Pettyfer: "McConaughey is the Dirtiest Stripper You'll Ever Meet!"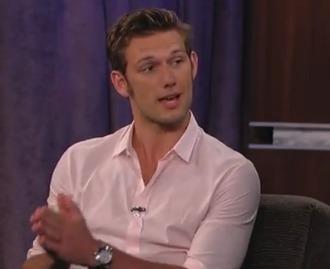 Let's see... picking your favorite star of the new male stripper movie Magic Mike is not easy. You have the hot new guy Alex Pettyfer, the always hunky Channing Tatum, the man with abs of steel Joe Manganiello, the pretty boy Matt Bomer and the all American classic, Matthew McConaughey.
So out of all these actors, who's Alex's favorite? Let's just say he wasn't shy to fill us in on who he considers the "dirtiest stripper you'll ever meet."
Article continues below advertisement
"In the scene I'm wearing tracksuit bottoms or sweatpants. He's wearing spandex and a little tube top," Alex explains. "And I can promise you that I'm probably one of the only men that's ever been thrusted from behind from McConaughey!"
But Matthew wasn't the only castmate that got Alex smiling! The British hunk admits Channing did help him out with most of his dance moves.
"I decided that Channing went from stripping to acting, so I'm going to go from acting to stripping and use this as my debut," he joked.
Article continues below advertisement
OK! NEWS: CHANNING TATUM RIPS HIS SHIRT OFF & PROMOTES MAGIC MIKE ON TODAY
"I had no experience with dance whatsoever and I think I questioned Channing on a few things about dance, but the world of male stripping I actually experienced because I went to a male strip club," Alex revealed. "I went to one in Florida and I also went to Hollywood Men. And this is really sad... Matthew and Channing went together, a few of the other guys went together... I went on my own. Probably not the best thing."
"And I went in thinking I would have my hands in my head," he continued, "and I think it was one of the most funniest experiences I've ever had. It's more of a comical show. To me! To the women..."
Are you ready for Magic Mike?