NEWS
MAKING THE BAND 4 RUMOR REVEALED!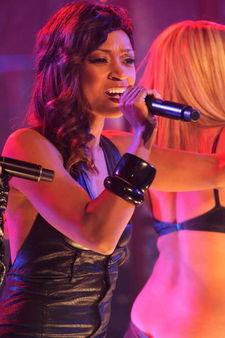 Danity Kane's D. Woods appears on the season finale of Making the Band 4 tonight. So I had to put her in the hot seat and ask about one of the biggest behind-the-scene rumors of the show: She and the rest of the DK didn't really sleep in the MTB house!
D. laughs coyly. "I will say this, there wasn't a lot of sleeping going on during the entire season, whether it was in the house or not. We were working a lot until the wee hours of the morning…We might have popped in, taken a shower, changed our clothes and kept on moving," she says, adding, "Sometimes the guys were a little hard to take. They were just loud and rambunctious – all that testosterone. I couldn't take too much of it all at the same time."
Article continues below advertisement
Juicy stuff! D. promises that tonight's finale, which was shot live yesterday in New York City, will be a hot recap of the whole season. "All of us were there: Danity Kane, Day 26, Donnie and Diddy, all the Ds you can take!" Along with performances, new footage will also reveal how the groups have been doing since they finished their respective albums.
D. is thrilled Danity Kane's second CD, Welcome to the Dollhouse, which dropped March 18, is racing up the charts. "Our fans have been so supportive, we're on our way to another number one slot this week," she proudly exclaims. The singer, who has battled with her weight in previous seasons, is about to release a workout DVD. "Being on the road all the time, I can't always follow a consistent gym schedule," D. says. "These are things you can do in your hotel room. It's entertaining and motivating."
D.'s also appearing in ads for LRG's Luxirie line, modeling clothes from the spring and summer collection. "It's very colorful and has the personality I have, a little bit of hip hop and a little bit of rock and roll." She's also pleased that the line compliments her curvaceous figure. "When you find something that works for you, you got to stick with it."
Being a little bootylicious myself, I thoroughly appreciate!
Making the Band 4 (season two) season finale airs Sunday, March 23 at 8 p.m. on MTV.