NEWS
Maksim Says He's Done with Karina for Good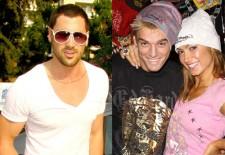 In the weeks since Maksim Chmerkovskiy's breakup from former fiancée and fellow Dancing with the Stars pro Karina Smirnoff — and his recent elimination from the show — the hoofing hunk is doing his best to keep his head held high and to cut all ties with Karina.
"I am very excited to embrace all of the opportunities that are out there," the still slightly heartbroken 29 year-old exclusively told OK! at last night's Free the Slaves Freedom Awards in L.A.. "I have gotten over it.??"
Article continues below advertisement
Despite Chmerkovskiy's urge to let the drama go, when asked if he would speak to Karina ever again, the Ukrainian dancer had his mind made up.
"No… I have never been engaged before this so I didn't know how it works."
But is the now-eligible bachelor on the prowl again? "No. I am just staying very busy, very productive with work," he reveals to OK! with a smile. "I mean that is the human reaction."
Now on the mend, Maksim has no desire to reunite with his former flame, Smirnoff, who is suspected to be dating her current dancing partner, 21-year-old Aaron Carter.
"I am making it work by focusing on my family first and foremost." Maks said to OK! in response to the rumors, "and I have been very thankful. Also my job and events like this take my mind off of it."
Meanwhile, Aaron and Karina, who keep shooting down relationship rumors, did nothing to actually quell the chatter by walking together down the red carpet at the 2009 Fox Reality Channel Really Awards in L.A. last night.