NEWS
Maksim Teaches Chelsea Clinton to Dance?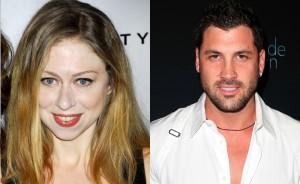 Maksim Chmerkovskiy turns coy when I ask him about teaching Chelsea Clinton dance moves for her Saturday wedding during the Casio Shock The World 2010 event held this week in NYC.
"Their wedding was kept very personal and private, and I respect their privacy," the reality star, 30, tells me, seeming surprised I knew about the prized pop culture pairing that means former President Clinton and his family must watch reality TV staples including Dancing With The Stars.
Article continues below advertisement
What was the former first daughter like as a dancer?
"Next question," he briskly says.
Hm, will newly-engaged Bachelorette Ali Fedotowsky appear on the show?
"It seems to be keeping with the network. We have Bachelors and Bachelorettes all over again. I don't see why not. I don't know. Melissa did great, Jake did OK, and we'll see, maybe Ali will be next."
Perhaps Ali will have the chance to warm up to Maks in a way Kate Gosselin did not.
MORE ON:
Maksim Chmerkovskiy
"We never clicked," he says. "She was busy doing her thing, and we spent 50-60 hours a week with her in rehearsing. There's not really a lot of time for clicking. Tony spent more time with her."
Meanwhile, the Ukrainian-born dancer, whose engagement to fellow Dancing With The Stars hoofer Karina Smirnoff ended last year, admits he's "enjoying single life" this summer, adding he's looking for "all the qualities, that's why it's hard to find" in his ideal woman.
For more on Chelsea Clinton's wedding, pick up the OK! on newsstands everywhere this week. The cover line is "Jen's Stealing Brad Back!"