NEWS
Malan's Musings: Fashion Friday Is Here!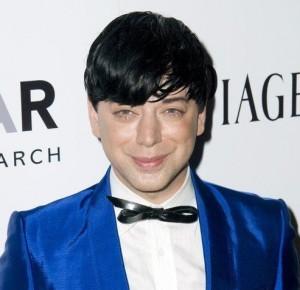 Every week at okmagazine.com, accomplished designer Malan Breton takes a look back at the week in fashion — the Do's, the Don'ts and everything in between! Join Malan and OK! for Fashion Fridays!
"Some day, when I'm awfully low/When the world is cold/I will feel a glow just thinking of you/And the way you look tonight."
Oh, darlings, leave it to a lady in red to make the most memorable mark this week. Rihanna, in this simple but potent red ensemble leads the pack this week, With sheer style! I do not recommend dying your hair the perfect Pantone colour to match your ensemble but here it works. It's young, playful, and Rihanna.
Article continues below advertisement
OK! GALLERY: L.A. BAFTAS BRING OUT THE BIG STARS
From red dresses to a beautiful red lip, we have Taylor Momsen, looking delightfully Goth in an ensemble made for the crypt. But those lips, in that sort of vamp shade are stunning!
Completely off the guided rouge road, we find Ke$ha, looking a bit like a paintball victim and an aerobics instructor. An ensemble that must have left her with the most debilitating neon glow!
Article continues below advertisement
OK! GALLERY: STARS DRESS TO SHOCK AT THE 2010 MTV EMAS
We now join our previously scheduled program, ROUGE! And Johnny Knoxville shows us as there is sportif, there is also an occasional color. I always design for men with a twist of color and street. Bravo, Johnny!
Katy Perry... Oh, Katy, How I love your humor! Thank you for making us all remember fashion should be fun, not a victimization of ones soul! HA HA!
Well, one cannot wear red all week, so we shift to the flapperesque offerings of Lady Gaga! Stunning darling! Its as if Clara Bow and Doris Day taught a class in vamp chic. I love the sportif magenta with the blonde bob! It's so lovely to know such artistry and thought goes into her look!
OK! GALLERY: LADY GAGA — THREE OUTFITS, TWO HAIRDOS, ONE DAY
Well, we end the week with one of the most beautiful women in Hollywood, Anne Hathaway, in sheer blanc! She looks radiant but simply stated. Whomever styles Anne is a genius! BRAVA!!!