NEWS
Malan's Musings: Fashion Friday Is Here!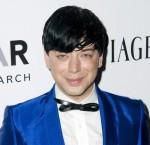 Every week at okmagazine.com, accomplished designer Malan Breton takes a look back at the week in fashion — the Dos, the Don'ts and everything in between! Join Malan and OK! for Fashion Fridays!
Darlings, how have your summers been? Filled with sand, sun, champagne and travel? Alas, in a few hours I board a plane to Lala Land. Travel clothes, sunblock, sandals, shoes, passport...
OK! GALLERY: ANGELINA JET-SETS AROUND THE WIRLD WITH HER GIRLS & BOYS
Article continues below advertisement
Speaking of chic families who travel well, The Pinkett-Smith family looked amazing in Paris at Jaden's opening for The Karate Kid. I wish Jaden Smith great success with this film.
OK! GALLERY: THE KARATE KID CONTINUES TO KICK DERRIERE IN FRANCE
I have always enjoyed Naomi Watts' sense of Aussie style meets urban chic. This drop-dead gorgeous mother of two knows travel comfort! Travel clothes will never be the same as they were 20 years ago so why not wrap a scarf around it on a 105-degree day. HAHA!
Article continues below advertisement
OK! GALLERY: NAOMI & LIEV SECURELY JET-SET WITH SASHA & KAI
Paris Hilton in St. Tropez knows the perfect warm weather wardrobe must include a Borat-inspired Mankini! But darlings, at night Paris gives us Gaultier Glam and her sister Nicky in Herve Leger looks picture perfect chic!
OK! GALLERY: PARIS HILTON POSES BY DAY, PARTIES BY NIGHT
Tousled... The perfect adjective for summer hair, darlings! And who better than the beautiful Jessica Biel to exemplify the look. Seen here in Madrid with her A-Team castmates. Usually Bradley Cooper has great style but perhaps they misplaced his luggage, or someone else out there is wearing a Dolce and Gabbana suit right now. Darlings! Laundry day clothes should never be worn on the red carpet!
OK! THE A-TEAM CAST LOOKS A-MAZING IN SPAIN
As I write and rewrite this last sentence trying to nicely express my concerns about Spencer Pratt's appearance, I am reminded of my youth! I, too, surfed and this look can only be explained by the lifestyle. Not a PR stunt, not a lifestyle change — it's called being one with nature and earth. Oh, Nature!
Well darlings, I have a plane to catch! I hope you have a lovely weekend, tell me what you have been up to this summer and what styles are moving you! Until we meet next Friday, have a glamorous week and try each day to feel a little more radiant, because luminous style makes everyone feel like a star! And do not forget to wear sunblock!
Malan
Follow Malan on Twitter at twitter.com/malanbreton and on Facebook!