NEWS
Malan's Musings: Fashion Friday is Here!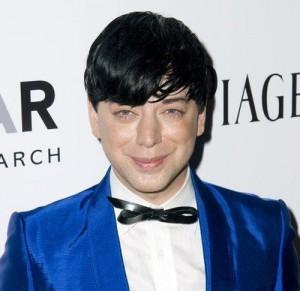 Every week at okmagazine.com, accomplished designer Malan Breton takes a look back at the week in fashion — the Do's, the Dont's and everything in between! Join Malan and OK! for Fashion Fridays!
Darlings, it's Friday and what a week! Most memorably, the world was privy to one of our favorite daughters being married!
Like a scene out of an old Hollywood film, the bride wore Vera Wang, and the mother of the bride was in Oscar De la Renta. Chelsea Clinton has grown to be such a lovely woman.
Article continues below advertisement
"The summer bride is glorified by Merlin's magic touch. A lucky man receives the love of June, July and such." Oh, darlings, weddings always bring back memories of Funny Girl and Barbra Streisand.
OK! GALLERY: CHELSEA CLINTON'S DREAM WEDDING
Speaking of! Did you hear that Prop 8 was overturned? Now, everyone has the right to celebrate love in California!
Glee star Matthew Morrison seems to be following a little fashion trend in a three-piece suit. He looks smart and like the perfect gentleman. But, the collar on that shirt, darling? Just a word of advice when going three-piece — always wear your collar under the vest. But altogether, a very smart choice.
Fox has such an array of entertainment on their channel, from Gordon Ramsey, seen here going for Hillbilly chic. Does one capitalize Hillbilly? Is it a formal name? Haha!
Oh, and darlings, my beautiful friend Martha Plimpton was there in a soft, dramatic and elegant piece. She is a very stylish girl!
OK! GALLERY: FOX STARS PARTY LIKE ALL-STARS
Chris Colfer looks very smart for a winter day in Sag Harbor. Darlings, it must have been a very cold night in Santa Monica in June.
Article continues below advertisement
Lea Michele looks ravenous in this tie-dyed number. I find Lisa Edelstein's floating amoeba dress oddly interesting!
How perfectly stunning is Eva Mendes in Oscar De la Renta, and her co-stars Mark Wahlberg and Will Ferrell look like the toys that go atop a wedding cake.
OK! GALLERY: WILL FERRELL & FRIENDS WALK THE POLICE TAPE FOR THE OTHER GUYS PREMIERE
Does David Hasselhoff ever age? He looks amazing and he has the perfect modernized classic — the sparkly black suit.