NEWS
Malan's Musings: Fashion Friday Is Here!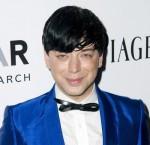 Every week at okmagazine.com, accomplished designer Malan Breton takes a look back at the week in fashion — the Do's, the Dont's and everything in between! Join Malan and OK! for Fashion Fridays!
Darlings, it's Friday! Let the week end with a history lesson in mid-century American chic!
"A kiss on the hand May be quite continental," but I prefer Paris Hilton looking a little more Marilyn at the launch of her new fragrance, "Tease." If this is any indication, '50s retro is in force! Fashion is about to take on a new face!
Article continues below advertisement
OK! GALLERY: PARIS HILTON PUTS HER BEST MARILYN FACE FORWARD
Hollywood! From Paris sporting '50s Marilyn to Katie Holmes sporting Audrey Hepburn retro of that same era. It's time for the world to see glamour again!This excites me darlings, my show this season at New York Fashion Week is inspired by 1950's Paris and one of my favorite films!
Oh, the glamorous '50s! A time where men "put a shine on their shoes and..." look here, in London, Hollywood's hottest leading men Sylvester Stallone, Jason Statham and Dolph Lundgren gave us rat pack glamour, whilst Katie Price went retro Bettie Page.
Article continues below advertisement
OK! GALLERY: PARIS ROCKS LEATHER & LACE IN L.A.
Even the illustrious Rihanna is retro inflaming red hair. Once a hair color by now defunct Du Barry Color Glo, in the 1950's, her color could be what was called Tiger Lily — fire flame red! On that note, she looks chic, sportif and retro!
OK! GALLERY: RIHANNA'S RED HOT TATTOO TOUCH UP
America was in love with Gidget and surfer culture in the late '50s, the lifestyle was the precursor to many of our modern casual styles. And what better retro emulation then at the Kids Choice Awards? Hilary Duff in sea foam green Herve Legere emulating '50s sex kitten and friend Mamie van Doren. David Beckham, the Kahuna of style, was in a retro Moondoggie ensemble.
Article continues below advertisement
At the New York Premiere of Eat Pray Love the handsome David Lyons was looking rather like a piece of fresh produce! Poor darling! Bronzer is never a good thing when you resemble a carrot, Unless its a 1950s Technicolor carrot, then it's CHIC! HAHA!
Stop the presses, it is Billy Crudup giving us retro Dean Martin. Julia Roberts showing us retro meets modern chic, so beautiful! But darling, the satin bridal shoes, OOPS! And Javier Bardem in that '50s Technicolor bleu, tres chic!