NEWS
Malan's Musings: Fashion Friday is Here!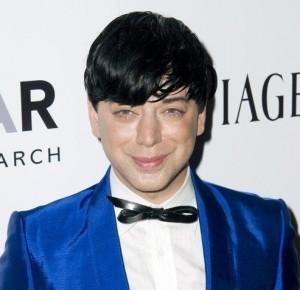 Every week at okmagazine.com, accomplished designer Malan Breton takes a look back at the week in fashion — the Do's, the Don'ts and everything in between! Join Malan and OK! for Fashion Fridays!
Lollipop, Lollipop who looks like a lollipop — Darlings, why Hello! It's the lovely and effervescent ode to the great Chupa Chupa, the great Violet Beauregarde, yes darlings a little Willy Wonka at your local stylists station. And after all that, it's Katy Perry! In the city of lights, Gay Pareeee! OOOOH - LALA or should I say OOOOOH - LA LOLLIPOP!!!
Article continues below advertisement
OK! GALLERY: KATY PERRY HAS A BLUE 'DO IN PARIS
Darlings, there has been a robbery!!! Yes my purple silk pillow cases are missing, and the stylist did not even have the decency to press the wrinkles out of them! Alas, Amanda Seyfried would look gorgeous in a paper sack.
OOPS! Speaking of sacks and paper, Virginia Madsen, I give her a kudos for the color, but darlings who bows a dress right where your belly goes? Unless they are trying to make you look like an Oompa Loompa. Oh the great Willy Wonka would have been proud.
OK! GALLERY: AMANDA SEYFRIED IS PERFECT IN PURPLE FOR RED RIDING HOOD
OMD's Catherine Hardwicke must have come straight from the stables. Like I always say a satin bridal handbag and a peek a boo bellybutton tunic are always an effective way to spruce up your equestrian uniform, HA!
My Darling friend Lance Bass looks stunning in this techno-fiber ode to Prada's past, Bravo!
Darlings, this week's Kim Kardashian sighting is brought to you by, The Chateau Nightclub! She looks lovely in a lace front shirt with a green cotton skirt, sort of like the one Mrs. Ivy, my English professor used to wear in secondary school. "Mrs. Ivy, Bobby just threw a peanut in my ear!" Oh, darlings! Or should I say, O Tannenbaum, O Tannenbaum, How lovely are thy..... Well darlings back to the fashion, the glamor, the joie de vivre!
Article continues below advertisement
OK! GALLERY: STARS PARTY AT CHATEAU NIGHTCLUB & GARDENS OPENING IN LAS VEGAS
Ooohh lala... la la la la la! OMD's I need another Martini. This is Thierry Mugler?!?!? Did I read the caption wrong?
I give Lady Gaga a lot of credit! Many people are afraid to truly express who they are. I know in the past I may have kidded a bit, but I do love her and her style and most of all what she stands for. So for Kitty Kat suits everywhere, I say Brava! Was that really a Thierry Mugler Collection? I remember Meeting Monsieur Mugler as a boy, he was one of my greatest inspirations because he created fantasy! Wearable, sellable, sensual, fantasy. He could drape a garment that made the imperfections of a man or woman's body their most sell-able attributes. That to this day A-listers pay a fortune to step into his archive. He inspired so many!
OK! GALLERY: LADY GAGA TAKES PARIS FASHION WEEK BY STORM
Perhaps it was very dark at this show for a reason! The performance was very nice though!
Alas, like a beautiful butterfly, Blake Lively flutters onto a sidewalk, wearing the most delicate of white, and of course it's Chanel. Thank you! Consistency modernized. Monsieur Karl Lagerfeld is a genius, and Blake a beautiful muse. Brava!
Article continues below advertisement
There is one man in Hollywood I have yet to meet, and I sincerely hope that day comes very soon — Tyler Perry. I close my column congratulating him on what was one of the greatest films of 2010. He looks very stylish mixing the blue with the black tuxedo.
Darlings I'm on Sofia Vergara watch, AYAYAYAYAYAY!!!! Bella BELLA!!!! Whoot Whoooot!!!
OK! GALLERY: TYLER PERRY'S "FOR COLORED GIRLS" DOMINATES NAACP AWARDS
Wait!?!? Hold it!!!! I suddenly felt transported to another land. The land of mechanics who go home to their wife and eight children in a far far away land called the Bronx! OMD's help!!! I'm so confused! HAHA!
Well darlings until next week I wish you Love and Glamour!
Malan
*Remember OMD stands for OH MY DARLING! HAHA!