NEWS
Malan's Musings: Fashion Friday Is Here!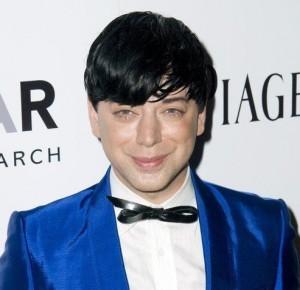 Every week at okmagazine.com, accomplished designer Malan Breton takes a look back at the week in fashion — the Do's, the Don'ts and everything in between! Join Malan and OK! for Fashion Fridays!
OK! GALLERY: THE GOTHAM INDEPENDENT FILM AWARDS BRING OUT AMBITIOUS FASHIONS
In 1977 Annie Hall, a film by Woody Allen, changed women's fashion forever. Men's suiting tailored to fit Diane Keaton became a statement of women's chic and liberation from her male counterpart. Like the days of Katherine Hepburn, women brought a new edge and beauty to the perfect pant suit. Alas, everything old is new again as Leighton Meester shows us here. Even Amanda Peet is pairing of the boyfriend blazer with what appears to be a shower curtain, giving us a taste of retro.
Article continues below advertisement
Speaking of Retro, Winona Ryder gives this vintage Dior an air of youthful sophistication. Winona looks stunning!
Stop the presses! Is Natalie Portman wearing Lanvin for H&M? If so it is a brilliant and accessible piece of fashion. Thank you to people like Natalie and Kate Beckinsale for showing the ladies of the world that glamour can be truly accessible.
OK! GALLERY: BRAD"S BAD FASHION FAUX PAS IN PARIS — LEATHER PANTS!
There is no one in fashion like Mary J. Blige. She is stunning and her sensibilities supersede anything I have experienced. Leather is the fabric of the moment, seen here on MJB and worn by Brad Pitt. Prepare yourselves for a lot of leather on the catwalks this fall. The '90s are back in full swing!
OK! GALLERY: BLAKE LIVELY SPARKLES WITH STAR POWER FOR LORRAINE SCHWARTZ
Forgive me for what I am about to say! BUT! Blake Lively is a stunning girl, too stunning to wear a dress that, well let's just say, her dress needs a Brazilian! And I do not mean a person from Brazil. Sorry!
Article continues below advertisement
OK! GALLERY: FERGIE FERG'S NOT 2000 & LATE FOR HER FLIGHT
This season's faux fur vest trend, brought to us by Rachel Zoe gives a girl a layer of warmth that exudes chic. Seen here Fergie is a classically beautiful representative in her Janis Joplin-esque chic ensemble.
Well darlings, I end the week with one of my favorite ladies of fashion Mila Kunis, seen here in a dress that is the winner of the week. LOVE Mila! Love her look!
Darlings until next week, I wish you love and glamour!
Malan Breton