NEWS
Malan's Musings: Fashion Friday Is Here!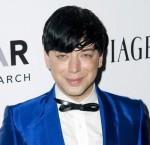 Every week at okmagazine.com, accomplished designer Malan Breton takes a look back at the week in fashion — the Do's, the Don'ts and everything in between! Join Malan and OK! for Fashion Fridays!
Once upon a time, there was a family whose name was Kardashian, which graced the world with some of the most beautiful daughters the universe has ever seen!
Never a day passed that they did not bring gifts to the world to make it a more beautiful place! The world loved them for their unmistakable style, grace, and beauty. And now a tell-all! What will these beauties think of next?
Article continues below advertisement
OK! GALLERY: THE KARDASHIANS KEEP UP KONFIDENTIAL APPEARANCES
When fashion tells a story, it often time forgets the line between fashion and costume! Oh, sweet Helena Bonham Carter, one of my favourite actresses of all time. But alas this dress appears to have come from a late 1800's beer hall. Or perhaps a scene from Oliver! One where she sings the great Oom Pappa!
Well, darlings, once again black is... the new black! We see it beautifully emulated at the UK premiere of TRON: Legacy. Worn by the stunning actress Olivia Wilde!
OK! GALLERY: THE STARS OF TRON: LEGACY LIGHT UP LONDON AT UK PREMIERE
And again on my darling Anne Hathaway who looks radiant down under!
I have always adored Liv Tyler for her beauty, her genius and the warmth she shows everyone she meets. seen here is feathers this black and white ensemble has a memorable twist! And as if they were besties arriving at together with Charlize Theron who is a vision in Blanc et Noir!
Article continues below advertisement
Oh, wait, darlings! I already have!
Well until next week, I wish you all love and glamour,
Malan Breton