NEWS
Malan's Musings: Fashion Friday Is Here!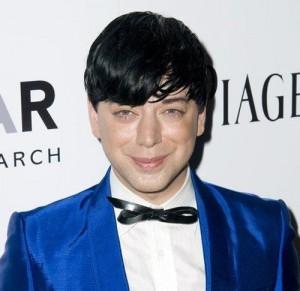 Every week at okmagazine.com, accomplished designer Malan Breton takes a look back at the week in fashion — the Do's, the Don'ts and everything in between! Join Malan and OK! for Fashion Fridays! This week — a special Golden Globes edition!
Lights! Cameras! Sparkle, darlings Sparkle! When we think of sparkle and utter glamour, two names come to the post... Marchesa and Versace.
But darlings, give Olivia Wilde a cellophane tiara and a glowing wand, et viola! You have the makings of a good witch Glenda costume from the Wizard of OZ.
Article continues below advertisement
Click your heels three times and, OMD! (Oh My Darling!) you have a January Jones cleavage mishap. Though it is desirable to be perky and plump, you do not have to advertise your assets to feel sexy!
I think I love Claire Danes — clearly two sticks of pink chewing gum and a belt were the inspiration for this column gown. Though she radiates glamour, I feel like this look has aged her 20, even 30 years.
Oh, darlings, a pretty flower I adore, a pretty tablecloth with flowers posing as a dress I simply abhor! Michelle Williams is stunning, the dress... well I will leave this one to the birds.
I love Kelly Osbourne's new and chic look, and this dress proves that glamour comes in modern shapes and sizes, Bravo Zac Posen!
And again on the lovely Eva Longoria, taking the classic black into a new realm of glamour!
Article continues below advertisement
My favourite of the night had to be Mila Kunis, in Vera Wang! Yes, darlings, she exudes ruched glamour.
OMD! Halle Berry must have left her dress in her car, sometimes the anticipation of the evening even causes me to forget not to wear my briefs on the outside of my trousers, HA!
The winner of the night, Zuhair Murad's dress for Mae West, I mean Christina Aguilera! It's amazing how history repeats itself!
Sandra Bullock went from chic to OMD! The dress, the hair, the whole look available now at your local upholstery show. From the dining room curtains as a dress, to the bear skin throw rug as a wig, darling, you are a beautiful woman, never forget that!
Well one cannot forget the men of the evening, all wearing simple understated black tuxes. The winner of the best black ensemble of the evening Ryan Gosling!
I do adore Johnny Depp, and the most memorable of all, Justin Bieber, finally someone who dresses with a twist and not like a cater waiter. Bravo' Justin!
Well darlings the ceremonies have just begun, I am prepared to see many many more lovelies sporting their favorite pulled garments. Who will be next? Until next week,
Love and Glamour!
Malan Breton