NEWS
Malan's Musings: Fashion Friday Is Here!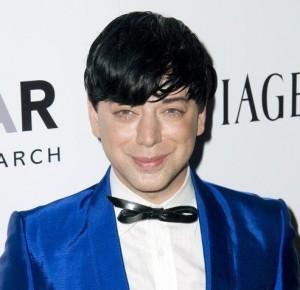 Every week at okmagazine.com, accomplished designer Malan Breton takes a look back at the week in fashion — the Do's, the Don'ts and everything in between! Join Malan and OK! for Fashion Fridays!
Once upon a time, in a time and place where dinosaurs walked the earth, was a pop-up shop that sold Diane Kruger this dreadful clan of the caveman inspired dress.
Let's talk about proportion. Diane is a beautiful woman, this dress makes her look as if she pulled something from a tree and said "Look, me pretty!" As Tarzan swung past on his trusty rope in a loin cloth.
Article continues below advertisement
Peek- a-boo!! I see a sparkly gold bustier, under this everything but the kitchen sink dress worn by the beautiful January Jones. I guess the old saying More is Less, is actually way too much in this case. And the 1930's radio dial looking buttons, must help her reception of the weather report in 12 countries.
Hark! In the distance I see a Kardashian, the week would not be the same without at least one Kardashian sighting. I have to say it, I love Kris Jenner. In this ensemble, I feel she is a spot on imitation of Bobby Trendy.
OK! GALLERY: DIANE KRUGER & JANUARY JONES GLOW AT UNKNOWN PREMIERE
Let us return to January Jones for one moment, I have just been privy to a closeup on her makeup. That golden eye is GORGEOUS!!
Oh, darlings look it's Kim Kardashian, wearing what resembles a funnel cake. I am confused the entire ensemble is so not Kim, and would be better suited for Natalie Portman or Audrey Hepburn circa 1968.
OMD's! I have to say it!!! Gaga's ensemble is one part Rue Mclanahan and two parts Speedy Gonzales. I remember when I was a model, wearing this stunning Dolce & Gabbana Latex blazer on a shoot once. Darlings, I was thirty pounds lighter once the shoot was over. It looks so chic in photographs, though.
Article continues below advertisement
I have a new crush this week, Brooklyn Decker! She is stunning!
OK! GALLERY: JENNIFER ANISTON & ADAM SANDLER JUST "IR" WITH IT IN SPAIN
Darlings, London and Milan have been a glow with fashion this week, we have seen some of the most stunning looks at Burberry, for example Anna Wintour looking so radiant in a stunning topcoat with the most beautiful pattern. Kate Bosworth looked gorgeous in this studded ensemble. My only question is how does one sit comfortably in a skirt like this?
Article continues below advertisement
OK! GALLERY: BURBERRY PRORSUM LIGHTS UP LONDON FASHION WEEK
I adore Alexa Chung for her simplicity, but darling, you're in London, glam it up a bit!
Well darlings, it's Milan and then Paris and then fashion weeks around the world come to a close. It excites me to know we will be privy to the most glamourous pieces this weekend at the Academy Awards. Have we heard anything about Kate Middleton's wedding gown yet? So anxious to see who will be designing for the lovely girl.
Until next week darlings, I wish you Love and Glamour.
Malan