NEWS
Malan's Musings: Fashion Friday Is Here!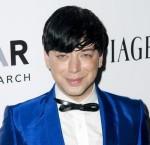 Every week at okmagazine.com, accomplished designer Malan Breton takes a look back at the week in fashion — the Do's, the Don'ts and everything in between! Join Malan and OK! for Fashion Fridays!
Somewhere in the 20th century style became a symbol of confidence, health and wealth. I live for the images of Clark Gable, Joan Crawford, Audrey Hepburn and Catherine Deneuve. One of my favorite pieces, the smoking jacket, even though smoking is a terrible habit of the 20th century. The glamor that was a part of that culture, beautiful designed cigarette cases, deco solid gold lighters, the archetypal smoking lounges, sleek and stylish designs that inspired a generation of men and women. Including the shawl lapeled smoking jacket.
Article continues below advertisement
CIAO!
Malan
P.S. thank you Matthew McConaughey for at least trying.