NEWS
Malan's Musings: Fashion Friday is Here!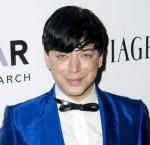 Every week at OKmagazine.com, accomplished designer Malan Breton takes a look back at the week in fashion — the Do's, the Don'ts and everything in between! Join Malan and OK! for Fashion Fridays!
"There ain't a woman that comes close to you, Angie, Angie..."
Oh darlings, I do love the Rolling Stones, but I love Angelina Jolie even more, her beauty, her style, her raw and unwavering talent.
OK! GALLERY: BRAD PITT & ANGELINA JOLIE RULE THE TREE OF LIFE PREMIERE IN CANNES
Article continues below advertisement
And this gown au chocolat, with a hint of leg is like a box of my favourite Delafee chocolates, simply and utterly perfect! It seems couture is taking a step back to the 1950s a time where Hollywood starlets brought fantasy to the silver screens and television boxes of the time.
OK! GALLERY: BRITNEY SPEARS & JASON TRAWICK HOST A STYLISH SOUTHERN EVENING IN BEVERLY HILLS
Even the beautiful Britney Spears looks like a starlet having a garden party in Hollywood's days of old, this citrine dress accentuates her beautifully curvaceous figure and gives her a glow unlike any other I have seen.
Article continues below advertisement
Hubert de Givenchy was one designer who simply and elegantly changed the look of Hollywood fashion, namely with his unforgettable muse Audrey Hepburn. He continued to dress some of the most beautiful women in the world, which brings us to Penélope Cruz in Givenchy. Though I love everything about this dress, the proportions are not suited to the muse.
We close the week on Lady Gaga watch, this blazing beauty, muse of all things new, and interestingly in a great study of all things past, has taken elements inspired by Jody Watley face print leather coat, Marilyn Monroe's dress in Gentlemen Prefer Blondes, Gloria Swanson veil, and My Little Pony, and made them unique, beautiful, and her own. Brava!
Well darlings, lets all take a lesson in fashion from Lady Gaga, and remember, it's better to be an individual then a cookie cutter version of someone else. Fashion should be a state of individual style, not an easily ordered catalog piece that everyone already emulates on their own.
OMDs! Until next week, I wish you,
Love and Glamor!
Bisous,
Malan Breton