NEWS
Malan's Musings: Fashion Friday is Here!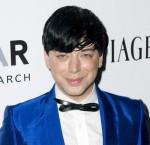 Every week at OKmagazine.com, accomplished designer Malan Breton takes a look back at the week in fashion — the Do's, the Don'ts and everything in between! Join Malan and OK! for Fashion Fridays!
"At first I was afraid, I was petrified..." That the seventies were back and I would be forced to join the polyester fest of tapered suits and glitter disco gowns.
But alas, we have learned a lesson or two since the glorious days of disco, and have brought it into the realm of natural fibers. Cannes, the destination of the moment, was aglow with Studio 54-era redo. So much star power at a gala for my favourite organisation, amfAR.
Article continues below advertisement
OK! GALLERY: STARS SHINE AT AMFAR GALA AT CANNES FILM FESTIVAL
Seen here, Gwen Stefani, in a powerful statement piece. I love the silhouette, the makeup, even the adaptation of a mullet that is her stylist's choice for this red carpet. She looks like a modern version of Jerry Hall.
Ultra glamourous was Irina Shayk, giving us the illusion of nudity with the soft and subtle flow of her paisley gown.
Janet Jackson is one of the most beautiful women of my youth, seen here in a creation of '50s-meets-boudoir-chic, is stunning! Except for the blue-cased soft boning used to create her belt, it literally looks like it came off a roll, for $3-a-meter, at Daytona trimmings.
Kirsten Dunst is giving us harlequin chic, and in such a soft and alluring color.
Darlings, Karolina Kurkova, perhaps one of the most beautiful models of this decade, does what she knows best. She looks fresh and STUNNING! OMDs the pièce de résistance, Uma Thurman! Still one of the most beautiful women in the world!
OK! GALLERY: YOUNG STARS SHINE AT THE 2011 YOUNG HOLLYWOOD AWARDS IN L.A.
Darlings, androgyny is the look of the moment. Men's tailored suits in beautiful silhouettes, adapted for women, are the most coveted look of the next four seasons. Seen here, Camilla Belle is beyond stunning.
Article continues below advertisement
I cannot say enough about Michelle Obama's style. She is classic, beautiful and I adore her use of color. This ensemble evokes memories of great '50s Hollywood glamor, brava!
OMDs!!! Hollywood's greatest discovery, Nina Arianda, seen in Midnight in Paris and Broadway's Born Yesterday, looks like a beautiful flower in this gown of lemon chiffon. STUNNING!!!
OK! GALLERY: ANGELINA JOLIE & BRAD PITT BRING THE KIDS TO KUNG FU PANDA 2
Well darlings, I close the week with a woman that can, by simply opening her eyes in the morning, serve us GLAMOR! Angelina Jolie! There are few women who can evoke such beauty, even in a simple day with the kiddies. Brava!
Well darlings, until next week, I wish you love and glamor!
Bisous,
Malan Breton