NEWS
Malan's Musings: Fashion Friday Is Here!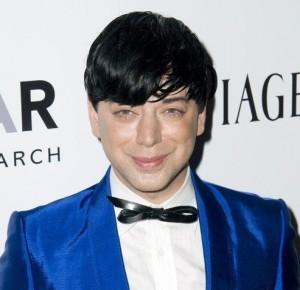 Darlings! It's Friday, and I am on my way to Los Angeles for press on my recent WGSN Global Fashion Awards nomination, and to celebrate the birth of my darling friend, Ariana Grande. I will tell you all about it next Friday. But this week, let's do something different. Let's talk about the MEN!
The men's fashion shows in Milan and Paris this week have brought out some of the most stunning silhouettes, colours, patterns and prints. Let us now fixate ourselves with the dapper Dans of Hollywood, and give a little insight on what men will be wearing for the year to come.
Article continues below advertisement
OK! GALLERY: RYAN REYNOLDS & BLAKE LIVELY CELEBRATE THE GREEN LANTERN HOLLYWOOD PREMIERE
Steel grey was one of the hottest colours for fall 2011 and Ryan Reynolds, America's newest heartthrob, looks brilliant in this suit with a slight texture. The distressed shoes are a brilliant touch. My only wish — HELLO, stylists?!? — no belt?!?! This is why we design trousers with those little hoops on them called, say it with me, belt loops. Haha!
Article continues below advertisement
Yes, I can yodel-adle-eedle-odle as well as Matthew McConaughey — odle ladi-ladi-ladu hoo, haha! I quite like this look! Though it screams "home on the range!" The men of the country music scene are some of the best dressed men in the music industry! And darlings, my favourite, they put the bling, in bling, before it was bling. Yikes, did I just use that outdated term? I much prefer SPARKLE!
I adore Jack Black, he is a funny funny man, I would love to dress him, though! I think at this point in his career he should look like the star he is and not like he just left the collegiate dorm room.
OK! GALLERY: SELENA GOMEZ & JUSTIN BIEBER SHINE AT MUCH MUSIC VIDEO AWARDS
Rugged is another option for men, and Colin Farrell gives us a little James Dean in his simple chambray and scruff. Oh darlings, chambray, I never thought I would speak that word outside the '90s!
I like a nice cardigan, but Drake?!?!? Or should I sing in my very best PBS retro voice, "Would you be mine? Could you be mine? Won't you be my neighbor?" Oh, to be inspired by the great Mr. Rogers and his lovely neighborhood!
Article continues below advertisement
If you have ever met Ian Somerhalder, you know Hollywood, got it 200 percent right. The eyes on this man alone could melt even a straight man's heart. Wait, does that make any sense? Haha! But darlings, this ensemble just looks a little... I just pulled up to the valet at the Ivy for lunch, and not awards ceremonial!
Bruno Mars gives us a little rock 'n' roll with this retro sharkskin short blazer and tapered trousers, very nice monsieur!
Oh darlings, I know we are talking about the men of fashion, but I just have to say Lady Gaga's use of a green merkin onstage, goes beyond anything I... I am not a prude, but... eww! Can anyone say Brazilian? Please! It looks like someone who made a trip to the merry old land of Oz and they lent them a snip, a clip, and a tra-la-la-la-la!
I adore this look on Justin Timberlake at the NYC Premiere of the Bad Teacher. Aww and look, my favourite Housewife and husband were there — Alex McCord as usual looks STUNNING! I adore Simon and Alex, it's so lovely seeing a couple so in love. Bravo! Oops, I guess literally! Bravo! Haha!
Well darlings, I end the week with a little quip: Once upon a time, a little boy made a wish that he would find his heart and dreams in Hollywood.
Darlings, dreams really do come true!
Until next week, I wish you Love and Glamour!
Bisous,
Malan