NEWS
Malan's Musings: Fashion Friday is Here!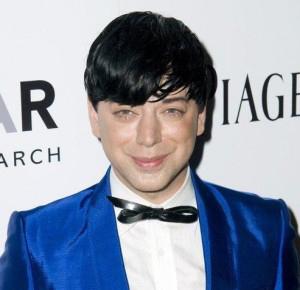 Every week at OKmagazine.com, accomplished designer Malan Breton takes a look back at the week in fashion — the Do's, the Don'ts and everything in between! Join Malan and OK! for Fashion Fridays!
Darlings, what a windstorm of a week! Los Angeles with its radiant sunlight, fabulous people, and bunnies. Yes, darlings, Playboy bunnies everywhere, thanks to the lovely Hugh Hefner. I had such a lovely time at the Roosevelt Hotel. Thank you to the beautiful Erin Mary for accommodating my every need.
Article continues below advertisement
One of the most memorable moments of my trip, the birthday of my best friend, Ariana Grande. Eighteen is a magical year and darlings Paramount Studios never saw anything lovelier. Music performances by Ariana Grande, Greyson Chance, Graham Phillips, Taylor Dayne, and the effervescent Patti LaBelle.
Here is wishing my best friend and one of the biggest talents to come out of Hollywood since Judy Garland a joyous 18th birthday.
OK! GALLLERY: JENNIFER ANISTON SHINES AT HORRIBLE BOSSES HOLLYWOOD PREMIERE
Another of my darlings Jennifer Aniston, looked absolutely art deco fabulous at the premiere of her new film, Horrible Bosses. Congratulations!!!
OOOOH Dear Paris Couture is underway — fashion, beading, lace, and months of hand-stitching come forth in a beautiful array of glamorous one of a kind gowns. And the lovely Katie Holmes, looks ravishing in this very boy meets girl YSL inspired look.
Article continues below advertisement
OK! GALLERY: KATIE HOLMES GOES FROM SIMPLE MOM TO RUNWAY GLAM
I truly adore her sensibility, and her beauty, BRAVA!!!
The royals have been on their tour of the America's, never looking lovelier, the Duchess of Cambridge Kate Middleton in lace. SO chic and so lovely to have a royal that one can relate to in the world of fashion!
OK! GALLERY: ROYAL COUPLE VISITS NATIONAL WAR MEMORIAL IN CANADA
Well darlings, I close the week with one of fashion royalty's greatest queens — Kate Moss. This very 1930's inspired beaded, John Galliano gown brings back memories of the late Joan Crawford, wearing Adrian Gilbert. The soft hues of the men's colour palette are simply sixties and so very lovely! Congratulations, to one who has been muse to so many designers, may your happiness be everlasting!