NEWS
Malan's Musings: Fashion Friday Is Here!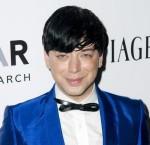 Every week at OKmagazine.com, accomplished designer Malan Breton takes a look back at the week in fashion — the do's, the don'ts and everything in between! Join Malan and OK! for Fashion Fridays!
Darlings, it's Friday! As my supermodel niece would say, "DUH!" HAHA! Darlings, it appears all of Hollywood is on a fast track to cleaning up their diet and getting in a well-balanced fitness regime — myself included. But most importantly, Hollywood's leading men are realizing once again that a ripped body equals box-office draw.
Article continues below advertisement
OK! GALLERY: RYAN GOSLING, EMMA STONE & STEVE CARELL BRING AN A-LIST CROWD TO NYC'S PREMIERE OF CRAZY, STUPID, LOVE
One brilliant example: Ryan Gosling, who is ripped for his new character role. I am also enjoying the experimentation in menswear now that men are discovering their new shapes. Slim is in, and suits galore are enjoying new shapes and colors.
By cutting out irresponsible eating habits, we could all look as STUNNING as Marisa Tomei. I simply love the hair, the accessories and we looooove Marisa. (Yes, darlings, with five Os, haha!) I must say though, her dress? Why ruin a stunning silhouette with a dress built for two, made in cheeeeeap fabric? (Yes, darlings, with five Es) Those extroverted pleats from the waist down would make any woman look like an SUV on a petrol binge.
I have to say, in my career I have had the honor of dressing some of the most BEAUTIFUL women in the world. But there is one, one I have admired at events for her style and grace. Her natural and sophisticated glamor and that face — OMD! Julianne Moore, seen here in elegant simplicity. A nod to one of the most beautiful women in the world!
I would do anything to give Steve Carell a few pointers on taking his wardrobe from 1991 to 2011. He is a great example of a man who looks so debonair but just needs the right tools to give him a modern edge. Call me!
Article continues below advertisement
I love a beautiful 1960's-inspired eyelet dress, and the beautiful Emma Stone brings 1967 to 2011, Brava! And done so elegantly!
Analeigh Tipton gives us ballerina chic, and Kelly "LEGS" Bensimon should really chat with Lloyd's of London about insuring those beautifully sculpted gams!
OK! GALLERY: FRIENDS WITH BENEFITS STARS GET SMOKING HOT AT NYC PREMIERE
It appears that everyone received the memo stating, "Please wear red to the premiere of Friends with Benefits." Haha, darlings! Well, who do you think did it best? Emma Stone? Emmanuelle Chriqui? Or the star of the film, Mila Kunis? I give you the honor this week!
Aww, look: It's two of my favorite people, Shaun White and Justin Timberlake — so dapper!!! Yes, darlings, everyone at this point knows I was once the voice for ESPN Extreme Sports. Shaun was one of the most mentioned names in my portfolio; he is a snowboarding genius!
OK! GALLERY: JENNIFER ANISTON & HORRIBLE BOSSES TAKE ON LONDON
Well, darlings, the secret is out! I have the biggest fashion crush on my darling Jennifer Aniston. She is chic, funny, beyond talented and seen here in one of the most beautifully cut leather dresses I have ever seen. BRAVA, JENNIFER!!! Ending my week in review in utter PERFECTION!
Well, darlings, until next week, I wish you love and glamour!
Bisous,
Malan
P.S.
Haha! Bet you didn't believe me!