NEWS
Malan's Musings: Fashion Friday is Here!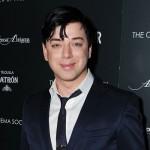 Every week at okmagazine.com, accomplished designer Malan Breton takes a look back at the week in fashion — the Do's, the Don'ts, and everything in between! Join Malan and OK! for Fashion Fridays!
Darlings! It's Friday and what a perfect day for a walk along the Seine in lacy panties a la Lady Gaga.
OK! GALLERY: LADY GAGA SWANS ABOUT SWEDEN IN HER SKIVVIES
Have you ever had that dream where you wake up, et viola! You're decked out in lace sitting at Orso Restaurant and Betty White is sitting across from you in a corset with a riding crop eating the liver? HA-HA! I know I have, HA-HA! JOKING! All I can say is I sincerely hope the ladies from "Sunset Daze" are not seen next week lounging in their double wide wearing their adult diapers and nude pantie hose. Perhaps GAGA was sleepwalking?
Article continues below advertisement
Gemma Arterton is the epitome of 1930's Hollywood glam and with leading man Jake Gyllenhaal this is a picture perfect couple. This is Hollywood at its best! As a designer all I can say is Thank you!
OK! GALLERY: STARS GET SERIOUS FOR MISSONI FASHION
Missoni is one of my favorite fashion houses! Known for color blocking and patterning that when applied makes one feel and look CHIC! Nicole Richie channels flower-child chic while Hilton sister extraordinaire Nicky is seen here in a sexy and feminine summer look and the wispy hair, is so playful and fun, Brava! Mischa Barton wears Missoni in a totally different fashion, giving us classic and structured beauty, three very different Missoni looks — all stunning!
Article continues below advertisement
OK! GALLERY: JESSICA SIMPSON SPREADS SMILES FOR OPERATION SMILE
Jessica Simpson, has such a good heart! Seen here at the Operation Smile gala she looks very Harajuki girl meets Bollywood chic, the dress is fun and unusual, I like it! But the winner of the night, is my new friend Olivia Palermo in a soft and floaty tiered dress in chiffon, with soft and beautiful makeup, and boyfriend Johannes Huebl looks like a leading man from Hollywood's golden era. This is a beautiful couple!