NEWS
Malan's Musings: Fashion Fridays!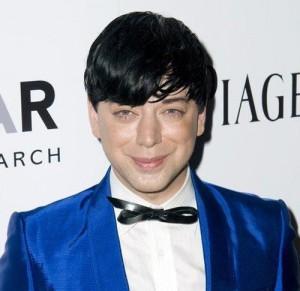 Every week at okmagazine.com, accomplished designer Malan Breton takes a look back at the week in fashion — the Do's, the Dont's and everything in between! Join Malan and OK! for Fashion Fridays!
Darling,s it's a very international week for celebrity fashion. The city of lights and love were host to American beauty Kim Kardashian and her lovely mother Kris Jenner, from Couture, to Bijoux, to crème glacée in a very wrinkled silk taffeta dress.
Article continues below advertisement
Darlings for those of you who know travel chic, taffeta is not a fabric that goes from luggage to street without looking like a used paper sac. Alas, with a face like that, who is looking at her dress?
OK! GALLERY: KIM KARDASHIAN & MOM PERUSE PARIS, STOP FOR SWEET TREAT
Also in the city of lights was Jude Law at a charity event for "Peace One Day." It is so lovely seeing Jude in a smartly tapered suit. He is the epitome of casual glamour.
Article continues below advertisement
When I first arrived in NYC in the 90s as a model I was introduced to this generation's genius of fashion, Alexander McQueen. He was comparable only to Mr. Christian Dior in the' 40s and '50s. He was unassuming, and so shy. His influence on modern fashion and designers of our generation have surpassed any other. He reinvented couture and made it into accessible works of art. To say Lee was anything less then a genius, does not do him justice.
To celebrate his legacy at London fashion week were his friends Daphne Guinness, Anna Wintour, Naomi Campbell, and Kate Moss. Bjork sang, and Sarah Jessica Parker stunned in couture McQueen. May there always be a place in history for the man who reinvented and popularised the low rise jean, created brilliance at Givenchy, and went on to inspire and question the boundaries of fashion at his own label. One man, Alexander McQueen.
Article continues below advertisement
And darlings were off! Rome, one of my favourite destinations in the world and one of my favourite stars. I often think of Julia Roberts as this generations Audrey Hepburn. Seen here in classic black lace at the Rome premiere of Eat Pray Love! She is the epitome of chic!
OK! GALLERY: MANGA PREGA AMA — JULIA ROBERTS AND CO-STARS TAKE ON ROMA
Oh, darlings, we return to America and the image of lovely Katy Perry's unmentionables being mentioned. To think she is emulating Marilyn Monroe would be like calling a cheeseburger filet mignon. But she is quite lovely and I hope this image did not lead too much embarrassment.