NEWS
Man Convicted of Stalking Tyra Banks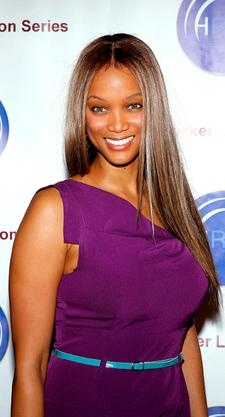 A man from Georgia who sent flowers to Tyra Banks, showed up at her studio and repeatedly tried to see her, and who said he had "a thing" with Tyra was convicted today in NYC of stalking, harassment, criminal trespass and attempted aggravated harassment, the Associated Press reports.
Brady Green could go to jail for as long as 90 days after sentencing on June 18, and his lawyer is already planning to appeal.
Article continues below advertisement
Police said Green called Tyra's studio repeatedly, asking to speak with her, and took a four-day long bus ride from L.A. to NYC—where he has no friends or family—and went immediately to her studio. He also sent her flowers and said that he and the America's Next Top Model host "had a thing together."
Tyra testified that she was warned one day when she was leaving the studio that Green had been there, and he had threatened an employee.
"I didn't know what to do. How do I live my life when I leave this building? I had never experienced anything like this before," she said.
Tyra has since upped her security, and has hired staff to be around her everywhere she goes. Her studio audiences are also being vetted more thoroughly.
"I don't live that kind of sheltered, protected life," she said of her increased security staff. "I like to walk around."