NEWS
Mandy Moore grows up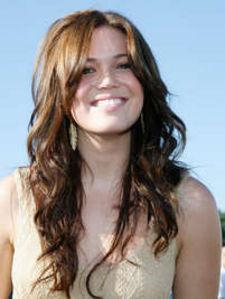 In this interview, she talks about her favorite kids' books, keeping her private life private and outgrowing her teen pop princess past.
What's the difference between what artists create and the artists themselves?
They're one in the same to me, at least in music. I'm not able to disconnect from that. I write about what I know. With acting, there's a bit of distance. You infuse as much of yourself in a role as possible — you can't help it — but yeah, to have a little bit of a break from yourself is the goal.
Article continues below advertisement
What's your favorite children's book?
The Giving Tree. I loved The Giving Tree. It's one of my first memories of reading a book and the illustrations. That, and If You Give a Mouse a Cookie. I myself haven't kept them, but I'm sure my parents still have them.
You've avoided becoming a Hollywood party girl. Are you smarter or cagier?
I think it's a balance of both. Honestly, I have no interest in living my private life in a very public way. I love what I get to do, and I wouldn't want to put myself in any position that would jeopardize that. I have a good family, I have great friends, I have a great support system that keeps me sane and grounded. I work really hard during the day and I'm not a big night-owl, going-out person, so I just crash. I'm a morning person, so I like to get my sleep and wake up early and start my day. I like to catch up on TV shows, read, chill out, get on the Internet. What attracted you to working on this film? It was the people, and being in New York with, like, actors. Real theater people. It was like, "Oh, geez Louise, how did I get myself into this one?" It's hard to find good stuff out there, so when you find a good project you want to be part of, you hold on for dear life. There are very few well-written young women roles, and I loved her sense of self. She's a very patient person, and I had a lot of admiration for her ambition. I'd like to think I'm like her. I don't think I'm nearly as confident as she is in herself, but I relate to that sense of patience and ambition. Why did you decide to do something different, that your fans wouldn't expect?
I think it's a natural evolution. I've grown up and matured, and obviously that's going to be reflected in the choices I make in my career. I think it's been a natural progression. I'm a young woman now, and I feel like I'm going to gravitate toward more roles like this, as opposed to the stuff I've done in the past. I feel like I haven't been the "teen pop princess" for a while, personally, but I'm sure there's still that perception out there because I feel it's hard to shake if you're a young person and you started out doing this at a young age. It's hard to always shake where you started from. It doesn't really bother me. I think people are used to the idea that I've grown up a little bit.