NEWS
Mano a Mano in El Bano: Old Spice Guy Isaiah Mustafa Beats Fabio in Internet Duel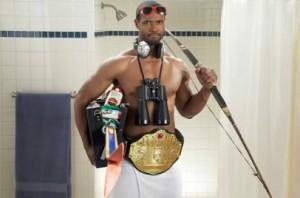 Former Old Spice guy Fabio challenged new Old Spice Guy Isaiah Mustafa to an internet duel yesterday titled "Mano a Mano in El Bano" and after fierce competitions Isaiah has been declared the ultimate Old Spice Guy!
OK! VIDEO: CATCH OLD SPICE GUY IN HIS LATEST AD — "I'M BACK"
The internet has spoken!
Isaiah has been declared the winner after his fans voted for his YouTube videos that have been going up rapid-fire since yesterday, WebProNews reports.
Article continues below advertisement
Fabio and Isaiah responded in video to their fans' Tweets and competed in both a Pong match and staring contest!
If you choose, you can watch all of Isaiah's videos from the competition on his YouTube page.
So what is Isaiah going to do now that he beat Fabio? Take a much-needed vacation.
"But I will send you postcards along the way because that's what friends do when they go places that millions of other friends can't," Isaiah says in his farewell video. "Until then goodbye ladies...and men...and self-aware computer systems."