NEWS
The Many Moods of Ellen Page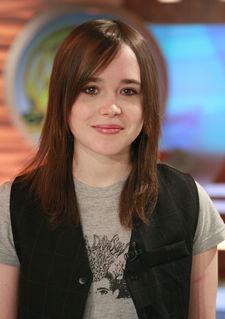 sure is sassy after doing tons of press for Juno, which opens today. The 20-year-old star of the Oscar-worthy teenage pregnancy drama meets reporters at NYC's W Union Square around 9:30 a.m.
"When I get asked these questions about abortion and choice, I'm like 'give me a break, it's a g------ movie.' Really? Is this really what we're here to talk about? People just bring that up because they want to have a pretends to type g------ story. It's frustrating."
Article continues below advertisement
How does she feel about being typecast in controversial roles?
"Obviously I'm not getting that associated," she says as ambulance sirens stream by outside. "I have Smart People with Dennis Quaid and Sarah Jessica Parker coming out in April where I play a really b-----, arrogant young Republican."
Well, how does the Nova Scotia-born star feel about Canadian film?
"Our industry is in a bit of a rut," she confesses. "I feel like there was a span of small, great, independent movies, and there was a lot of support for it, and a lot of government grants, and then Telefilm – Oh God, should I really be going this far to say these things? – stepped in and was very like 'let's make pseudo-American cheaper genre movies.' They always suck and fail completely."
Although Ellen says she has an "awesome" agent in Toronto and she's attached to a Canadian project, she hedges when asked if she'd lend her considerable assets to help her home country's industry. "I would never do something just because it's Canadian. It's hard to get Canadians into their own movies, other than in Quebec. Quebecers watch all their own French movies, which is amazing."
Like her character in the dramedy, she's sharp and quick-witted at every turn, but the actress who has appeared in Hard Candy and X-Men is not afraid to poke fun at herself.
Article continues below advertisement
"It's funny because X-Men happened, and people kept being like 'your life's going to change.' I pretty much knew it wasn't, because yeah, I'm in X-Men, but I'm just the girl who runs through walls. Unless you're a big X-Men fan, you're not going to remember the character's name. That didn't really change much except when I'd be with my good friend Ben Foster. Usually they recognize him, and they'd be like 'oh yeah, and you're that girl.' I'm like 'he had wings – whatever.'"
She can also be sweet, such as when she praises her Juno co-star Jennifer Garner.
"I adore her," she tells me. "She's incredibly down-to-earth, wonderful, warm, awesome mom – just a really beautiful person. I think she's really amazing in this film. She's extremely subtle, and I think it's an absolutely amazing performance. I feel really lucky to have worked with her on a project like this, which I don't think she's been seen in often. I think she really nails it."
Keep your eyes on Ellen – this brilliant actress is going to be around for a long time.