NEWS
Marc Anthony Gives First Post-Split Interview: "I'll Always Love Jennifer Lopez"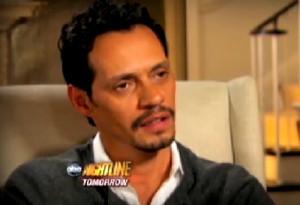 Marc Anthony is opening up for the first time about his split from Jennifer Lopez after seven years of marriage.
ABC News will air the first part of a two-part special, with Marc talking about his breakup, tomorrow on ABC.
"I'll always love Jennifer," Marc tells ABC reporter John Quinones in the promo clip below.
Article continues below advertisement
J.Lo recently talked openly about her split with Marc in the September issue of Vanity Fair.
"I will always respect Marc as a singer and performer," Jen said. "We actually work great together, and he was always very supportive. Together we could make magic — and we did. He will always be in our lives. He will always hold a special place in my heart as the father of my children."
ABC will air part of the Marc Anthony interview Thursday on Good Morning America, followed by a Nightline special on Thursday night.
Catch the preview for tomorrow's GMA segment with Marc below. Will you be tuning in?