NEWS
Marcia Gay Harden, Hubby Just Want to Be Together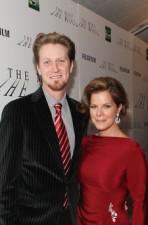 Alone time is rare for Marcia Gay Harden and hubby Thaddeus Scheel, who have their hands full with daughter Eulala, 9, and twins Hudson and Julitta, 3.
"We love doing anything together," Marcia tells me on the fog-filled red carpet during her premiere for the Stephen King thriller The Mist, which is in theaters Nov. 21. "Just being together is couple time, whether it's going on a hike, or going to a movie or reading a book. We water-ski together."
Article continues below advertisement
Luckily, she has high praise for Thad as a dad.
"He has all the qualities that will help make a good child," she tells me. "He's nurturing, kind, wise, disciplined, educated about things that most people forget, he's handy, he's the most capable person I've ever met in my life."
The Mist director Frank Darabont says Marcia excels in the mom department.
"She really loves her kids," he tells me. "She would glow when they were around. Her kids are adorable. They're little angels. The little girl had a little princess dress on with a tutu on top of it. Your heart just melts."