NEWS
Marcia Gay Harden's Daughter Takes Up High-Flying Hobby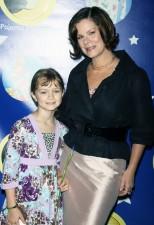 Marcia Gay Harden's 11-year-old daughter Eulala appears in Whip It, in theaters Friday, but acting isn't her only extracurricular activity. She's honing a skill that could make her a perfect candidate for the circus.
"I do trapeze," the young beauty tells me during the Toronto International Film Festival. "One day, for my tenth birthday, my mom took me to a – oh whatchamacall it – like a tryout class almost – and I went and fell in love with it immediately. Ever since, I've been taking classes on Thursdays."
Article continues below advertisement
How does mom feel?
"When you see her up there, her shape and her form, and what she's doing … I feel she's safe and makes the right decisions," Marcia tells me. "I love it!"
But according to Eulala, Marcia doesn't react so calmly.
"My mom's deathly afraid of heights, or so she says, so she's always like imitates 'oh my gosh, she's going up the ladder, she's gonna fall.' I'm just like 'mom, chill.' I would never say that to her, but I'm thinking it."
Pick up the OK! on newsstands now for more Marcia Gay Harden. The cover line is Jen Aniston/"Pregnant at 40!" And, catch Marcia and Eulala in Whip It, in theaters Friday.