NEWS
Marcus Canty Almost Quit 'The X Factor' After Rachel Crow Was Eliminated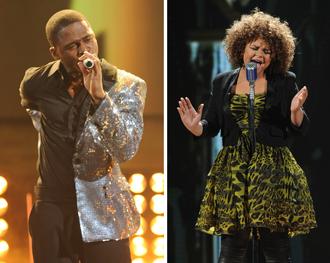 Last week, The X Factor had their most emotional and shocking elimination to date. And Marcus Canty was so affected by the results that he came very close to quitting the show.
After being in the bottom two, multiple times, Marcus wasn't new to this spot. However, young Rachel Crow was experiencing it for the first time. In an emotional moment, judge Nicole Scherzinger admitted that she couldn't make a choice, so she sent the decision to deadlock and it was up to the viewers' votes. 
Article continues below advertisement
OK! NEWS: RACHEL CROW GETS KICKED OFF 'X FACTOR'
In a shocking turn of events, it was revealed that Rachel had the lowest amount and was going home. As she collapsed to her knees and started calling out for mentor Simon Cowell, everyone couldn't believe it. And Marcus was one of them. 
"Marcus was crying backstage," an on-set source told The New York Post. "It took him a few hours to pull himself together. He felt so bad, his first reaction was to quit."
OK! NEWS: 'X FACTOR' JUDGE SIMON COWELL SAYS PAULA ABDUL SENDING DREW HOME WAS "BIG MISTAKE!"
"I've got plenty of negative backlash," he tells The Post. "People saying, 'Marcus go home.' I've got called names."
Marcus, 20, admits that he was devastated to be put up against Rachel, 13, and Drew Ryniewicz, 14, the week before. "I knew people would say, 'Marcus the baby-killer,' and I got the little girls crying," he says. "But people should be prepared for a heartbreak, cause everybody can't win… If people wanted Rachel to go through, they should have voted for her."
But Marcus says that he has no plans on giving up. "I am a cat with nine lives. They try to get rid of me, but they can't," he tells The Post.
Do you think Marcus can win the show? Who do you think will win?