NEWS
Marg Helgenberger Bad-Mouths Justin Bieber: "He Was Kind of a Brat"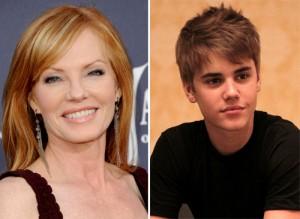 Marg Helgenberger doesn't have Bieber Fever. The CSI vet dished on Justin Bieber's time on set of the hit CBS show, revealing she didn't get the best vibe from the 17-year-old pop superstar.
The Biebs guest-starred on CSI in February, playing troubled teen Jason McCann, who met an untimely death when he was shot down after threatening Nick Stokes and his team.
Article continues below advertisement
During a recent interview about CSI in France, Marg let her real feelings about JB slip — and Beliebers are not going to be happy.
Marg was asked if Justin's role was written just to raise low ratings, or because the singer is "truly a good actor."
"Justin Bieber wasn't bad bad," she replied, via Radar Online, reportedly rolling her eyes. "But he'd never acted before ... He's better than you'd think."
Marg then added — "I shouldn't be saying this, but he was kind of a brat."
The actress then tried to cushion the jab back, explaining, "I only had one small part (with Bieber) ... he was very nice to me."
So why did the pop teen idol have such a bad rap on set?
"But he locked one of the producers in a closet and he put his fist through a cake that was on the cast's table."
We're sure The Biebs didn't mean any harm. He is used to playing pranks with his buddies while touring.