NEWS
Maria Menounos, Sterns Stand Up For Pets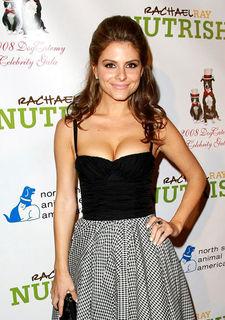 Maria Menounos saves the day during North Shore Animal League's Dogcatemy Celebrity Gala, which takes place at NYC's Capitale. Howard Stern and wife Beth talk the Today/Access Hollywood star into filling in as host for Law and Order's Richard Belzer, who has suddenly fallen ill, moments before festivities begin.
Luckily, Maria couldn't be more perfect for the gig where pets dressed in top hats, tuxedos and glittery dresses are feted during a fundraiser for the no-kill animal shelter that urges shelter adoption over pet store purchases. Her entry in tonight's video competition is all about why dogs are better than kids. The comedic satire wins Best Tail Waggin' Comedy – an honor she shares with Chris Booker.
Article continues below advertisement
Maria breaks out her BlackBerry Bold to show me a video.
"There's my dog Noelle," she explains. "She's a quadriplegic poodle. That's my rescue, Athena, in my tennis court, and that's my rescue Apollo. He knows he's on camera. I swear he thinks he's a superstar. And then they kiss in a minute. They're my chickies, my little lovebugs. Watch, ready, you're gonna see this. She sits down like a good girl right next to him, and then watch this – come on – they kiss. This is my favorite thing in the world because I get to stay connected to my dogs."
Her five pooches have their own special traits.
"When I've been sick, my boy bichon Benjamin has never left my side. Only to go to the bathroom, not even for food. And he is the biggest pig in the world. He loves food, but when I'm sick he doesn't leave my side. My quadriplegic poodle, Noelle, she's like a healing poodle. When you're upset, you put her on your chest – and I have five dogs – so I know she has the special power in the group. She's very healing. My dog Apollo, the big white German shepherd I have, rescued the little bichons when they fell in the pool. Ripped them up by their neck and saved them."
Article continues below advertisement
She adds, "They are gifts from God. I truly believe that. They're my everything. They're my kids."
Here comes Marcia Gay Harden and daughter Eulala, 8, who is decked out in mascara for the big night out. (They win Best Dogumentary!)
How do they spoil their pets? Although Marcia says she doesn't believe in spoiling pets, she lets Eulala give their border collie some love. "She gave it a little teddy bear," Marcia tells me. Eulala adds, "I also gave him a baby blanket." Marcia continues, "It was her own from when she was a baby. She totally gives it baby things, baby blankets, baby bibs. We do take care of them."
Mya is thrilled she recently adopted her first kitten, Mellow, from the North Shore Animal League. The owner of three dogs and one cat is gearing up for a brood of her own.
"I really believe animals prepare you for parenting," the Lady Marmalade singer tells me. "Dogs are a 24-hour job. They are kids. They go to school as well. They're lovable, loyal animals. They're very responsive. They absorb a lot of information. They understand whatever language you speak over the course of time. They're very dedicated to protecting you as the owner, and they look up to you as a child would. Whatever behavior you exemplify, they easily repeat, so if you raise them a certain way, they'll repeat that behavior. So yes, it's very similar to raising a kid."
Article continues below advertisement
Here's TRL host Damien Fahey and girlfriend Grasie Mercedes, who bring dog Hayden out for the evening. "We bought him the bow tie off the Internet, gave him three treats today and stuck him in a car," Damien tells me. "It was like a dog nap. We threw him in a town car and he just arrived here and that was it." He laughs, "This is his first red carpet and I'm already not allowed to look him in the eye. He already has an ego problem."
Monica Seles' dogs love chasing tennis balls. "What's so nice in tennis when you win a match or you lose a match, they're always just happy to see you. After such a pressured day, it's so nice to come home, and no matter if I won the match or I lost the match, they treat me the same way. The love they have is truly amazing – and the bond. I love both cats and dogs. They love chasing after the balls. They just really want to be near me. They really want to be part of me."
Article continues below advertisement
Time for dinner! Tonight we have salmon with pickled beets and ginger-carrot broth for the entrée and chocolate passion fruit parfait for dessert. Mmm!
During the ceremony, Howard shocks wife Beth by giving her the Crystal Angel Award. "Howard doesn't ever do that," she gushes. "I'm too famous," he adds. (Too famous indeed – Maria yuks that she's acting as a shield to hide the supertall DJ from fans before the event.) Beth raised $300,000 for North Shore Animal League by running New York City Marathon on November 2.
Beth jokes that while running in the marathon, different people would say "Oh my God, it's Beth Stern. Bababooee, bababooee, bababooee" several times as she ran.
And in the gift bag is a pink pet dress complete with diamond heart at the waist. I put it on our cat Mysty, who is totally confused because it's a little big. Hahaha. The other cat, Spense, seems pleased I didn't try it on her. Another day…