NEWS
Maria Menounos's Eco Chic!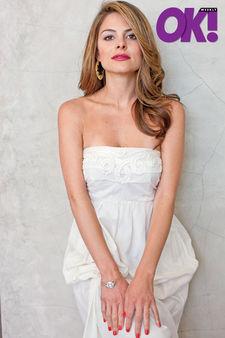 Maria Menounos is always dressed to impress, whether she's co-hosting the Today show or NBC Nightly News With Brian Williams, interviewing the hottest stars — like the Obamas — for Access Hollywood or hosting Hollywood Green on the Planet Green channel.
She's also a spokesperson for Pantene.
Now Maria, 30, is using her sense of style as a contributing designer for LIV GRN, an eco-friendly clothing line available at Kitson or livgrn.com.
Article continues below advertisement
OK! spoke to the bicoastal star in Beverly Hills.
How would you describe your style?
I'd say it's classic: white T-shirt, jeans, and a Coach trench coat. Yesterday I thought if someone saw my closet they would think I have a problem. I was like, there are a lot of white shirts in there.
What fashion trends are you loving?
I've been wearing flats a lot — I'm so over high heels. My feet were getting too swollen.
OK!'s EXCLUSIVE PHOTOSHOOT WITH MARIA:
Who are your style icons?
Jennifer Aniston is classy and sexy. And Eva Mendes — she's curvy like me.
Tell us about LIV GRN.
Ten percent of the proceeds go to Global Green a charity dedicated to stemming climate change. It's a message, a brand, a movement — it's so much bigger than just an eco line.
Do you splurge on clothes?
I am really frugal. Three weeks ago I went to the mall for the first time in a year because I don't like to shop. I get dizzy; I'd rather save the money.
How do you live green?
I'm giving up my Mercedes for the Jetta TDI Clean Diesel car. I try to walk as much as I can, and I shut off the air-conditioning and heating in the house. I'm planting a vegetable garden like Michelle Obama. And Cindy Crawford taught me to stop using water bottles.
Are you dating?
I'm with someone right now, and that's all I'll say! I'm very happy.