NEWS
Maria Shriver & Arnold Schwarzenegger Reunite for Son's Birthday Party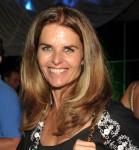 Ode to birthday parties! Last night Christopher Schwarzenegger celebrated his 14th birthday and soon-to-be exes Arnold Schwarzenegger and Maria Shriver reunited in the name of their son. They attended his birthday party at Mastro Steakhouse in Beverly Hills, Calif. Interestingly enough, Christopher is the same age as Arnold's love child with Patty Baena who will turn 14 on October 2.
Arnold left the restaurant alone while Maria was photographed as she walked alongside her kids Katherine, Patrick and Christopher, as reported by RadarOnline. Her 19 year-old daughter, Christina, wasn't pictured. The Terminator star, actually, left alone while Maria was photographed walking with her kids, Katherine, 21, Patrick, 17, and the birthday boy himself. (Christina, 19, was not pictured).
Article continues below advertisement
OK! GALLERY: ARNOLD SCHWARZENEGGER'S BIRTHDAY BIKE RIDE BY THE BEACH
The aspiring actor/model Patrick tweeted, "Dinner for the (brothers) birthday. Steak all the way. Swag"
Although Maria and Arnold are reportedly on friendly terms, Maria officially filed for divorce from The Terminator on July 1 after 25 years of marriage. The divorce will become official on January 1 because it takes six months in California for divorce to become legal from the filing date.